The 7 worst things that happened to me during my cross-country bike tour
There's a lot of fear surrounding travel by bicycle. So many people — especially women — showed concern for my safety. Rightly so. Sharing the road with vehicles and strangers is by nature a risky, vulnerable proposition. As I hypothsized before the tour, things can and will go wrong.
"You're so brave!" people remark. "Weren't you afraid x, y or z would happen?"
The top concern others had for me was stranger danger. I lost count of how many times I was asked if I was carrying a gun. So, to answer that question: no. I was not carrying a gun, and at no moment during the trip did I feel threatened or unsafe around any person I encountered. Thank you, strangers of small-town America, for being wonderful. You've affirmed this solo female traveler's trust and faith in humanity. 
That said, there were definitely some bumps in the road. Here are the worst things that happened to me during the 4,400 miles and 75 days of my ride:
View this post on Instagram
My panniers were stolen in Oregon
This was the first and worst thing that happened to me on the ride, so I like to think I got the bad luck out of the way early. On day five, I set up camp in the backyard of a Warmshowers host in the small city of Eugene, Oregon. Somehow, a thief discovered my tent and grabbed the panniers with a few items in them from the open vestibule. We were inside the house at the time, so luckily I didn't have to encounter the thief.
I wrote the details of the story here so others can be aware and extra-cautious in Eugene, a small city plagued with a high amount of petty theft as an unfortunate side effect of its bike-friendliness. 
View this post on Instagram
I got rained on in Montana and Virginia
Rain falls almost every summer afternoon in the Mountain West. I'm all too familiar with this pattern from all the time I've spent in the Colorado Rockies. I expected it, became an expert at watching the sky, and also found a good weather radar app. 
With this foresight, I managed to dodge the majority of rainstorms throughout the trip. I hung out on the porches of shops and houses, staying dry and waiting for the rain to come and go. But there were a few days when there was nowhere to seek shelter and I got caught in the rain while on my bike. Once in Montana and again in Virginia, I pedaled through a downpour and got so drenched that my shoes stayed wet for the whole next day. 
View this post on Instagram
The wind bullied me around in Kansas
I first got a taste of strong, gusty wind in Wyoming while crossing a Native American reservation. Little did I know, the worst was yet to come. Here's a fun fact: "Kansas" means "people of the south wind" in Siouan Indian. The prevailing wind blows from south to north, meaning both eastbound and westbound cyclists have a nasty crosswind to deal with. 
While pedaling across the windswept desert of grass that is Kansas, I learned to look at the wind forecast, even before temperature and rain. I learned what 12, 15, and even 20mph wind feels like. I faced the worst headwind of my life while heading south for 19 grueling miles. It almost broke me. That was the only day of the ride where I actually considered quitting and even started Googling the nearest bus routes home.

I got a little lost in Kentucky and Virginia
The paper maps for this route are fantastic. They're produced and updated by the Adventure Cycling Association and worth every cent of their price. Each segment goes into turn-by-turn detail with zoom-ins and descriptions. 
Even with these maps and GPS to corroborate where I was, I still managed to take a couple wrong turns that cost me 20 extra miles both in Kentucky and Virginia. The wrong turn in Kentucky was due to sheer exhaustion and sloppiness on my part. There was even signage that I managed to not see. The wrong turn in Virginia happened near the end of the route, right around Bumpass. That was where Lael Wilcox famously pulled into first place in the TransAm Race of 2016. Her frontrunning opponent fell behind because of — you guessed it — a navigational error. After hearing that piece of route lore, I felt less bad for getting turned around in what I now call "compass-breaking Bumpass."
View this post on Instagram
I was sick in Illinois and Kentucky
A respiratory infection snuck up on me in Illinois. My Instagram post pretty much sums it up:
Didn't want to admit it, but I got sick with a respiratory infection about four days ago. ?
I did what any endurance junkie would do: kept going, and treated movement as medicine.
I'm also treating medicine as medicine. The Benadryl is from Fair Grove, MO, where I thought it was just allergies. I got more Benadryl and decongestant in Chester, IL, thinking it was just a head cold.
Then it spread into my lungs as a full-blown phlegmy cough. So yesterday in Marion I added Robitussin DM to the mix. My lovely hosts tonight, Jo and Angelica, also gave me some Vicks VapoRub.
I feel fine when I'm riding the bike. Off the bike, relaxing and trying to sleep are when I feel sick. So I've kept up the big 70-mile days.
I kept it up until I couldn't. The infection slowed me down to half-days in Kentucky and finally a full rest and relaxation day in Berea, Kentucky. 
View this post on Instagram
I felt lonely in seven different states
Loneliness was a known risk when I started planning this as a solo adventure. I was hopeful, however, that I'd get my fill of fellow cyclists on such a popular classic route. But this year seems to have been low-volume for the TransAmerica Route. My only disappointment with the ride was the lack of overlapping or intersecting with other cyclists.
I did have the genuine pleasure of riding with five different cyclists — Quinn, Rebecca, Bernard, Steve, and my dad — at various times along the route. Their great companionship made the totally-alone portions of the ride feel a bit eerie. I spent nights curled up in my sleeping bag with a book wondering "where is everybody?" in Oregon, Idaho, Montana, Colorado, Kansas, Kentucky, and Virginia. 
View this post on Instagram
My heart broke in Colorado
I hit some unexpected relationship turbulence on this bike tour. My now-ex-boyfriend, who so lovingly helped prepare me and Blucifer for the ride, grew very distant while I was gone. He did join me for four days of riding in Colorado, but those were possibly the four worst days of the trip. We disagreed about bike touring style: where to camp, how to eat, and whether to go off-pavement or stop at hot springs. But it cut deeper than that. He called me "culturally Midwestern" and hated on my hometown of Denver. He questioned the motives for my journey and criticized the broadcasting of it online. I actually cried my way up Ute Pass, realizing things were probably too broken to fix. 
We did our best to patch things up. I managed to defer the bulk of the heartache until I finished the ride and returned to Denver, where we finally broke up. This has definitely contributed to the post-ride blues I still haven't kicked.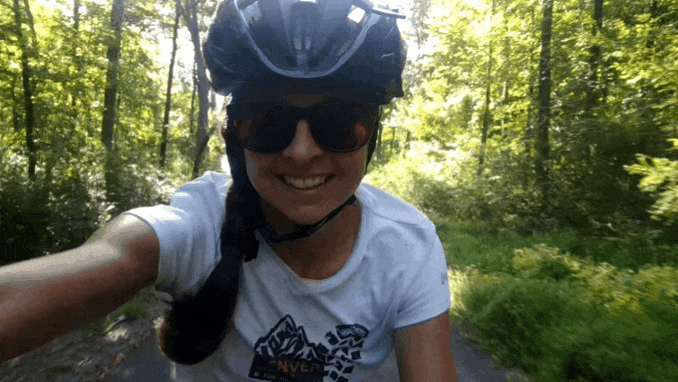 My spin on it
All said and done, I'd say I was incredibly lucky. When I hear stories of cyclists who quit halfway or see pictures of injuries and other disasters on Instagram, I can't even believe my good fortune. 
Things that amazingly DIDN'T go wrong:
No creepy men or unwanted attention

No falls off the bike, collisions, or even close calls with vehicular traffic

Only two flat tires and no mechanical issues

No major run-ins with the notorious hill dogs of the Appalachians
If I were to write a post about the BEST things that happened to me, it would be way longer than seven items. So why dwell on the negatives? A few reasons: the trials and travails are part of the story too, I want to help others anticipate them, and it's a topic that a lot of people ask me about on the regular. 
So there you have it. Now let's wrangle our fears into submission and start dreaming up our next grand bicycle adventures.

Disclaimer: No ice cream cones were hurt in the making of this post. Photo credit: wikimedia