Why I'm not too worried about going solo
When I pitch my cross-America bike tour plan in conversation, I get some strong looks. "So you're doing this alone?" Eyebrows either furrow with worry or raise with amazement.
Yes, I'm doing this alone. And yes, this prospect is both worrisome and totally badass. I have no problems defending this position. I've grappled with both the angels and demons of solo travel on long-term trips before. Here are five perks and three downsides of going over 4000 miles for at least three months on a bike tour alone.
It's an established route
I'll be following the TransAmerica Bicycle Trail, which is one of the most well-established road bike routes on the continent. I like to describe it as "The Pacific Crest Trail of road bike touring". I'll strike out on my own, Cheryl Strayed-style, but chances are high that there will be other bike travelers leapfrogging me all along the way.
The route was first established by the Bikecentennial movement in 1976, which later evolved into the Adventure Cycling Association. This non-profit maintains detailed maps of a huge network of bike routes in North America, and the TransAmerica Bicycle Trail is where it all began. I haven't found good data about the approximate number of cyclists that make this same cross-continental journey each year, but its popularity is as strong as ever.
I'm counting on the TransAmerica Bicycle Trail to provide fellow bike tourists for doses of good company around the campfire now and then.
Warmshowers.com community
One major draw to bike touring is that it has its own free hospitality exchange called Warmshowers. I've written about my great experiences as a Warmshowers host, and now I'm ready to tap into the community from the guest side of the exchange.
I plan to spend around 80-90% of nights camping, so I'm not counting on Warmshowers hosts every night, but it would be nice to meet the locals and hear their hosting tales occasionally during the trip.
I like solitary, introverted things
The following things sound fun to me:
Getting drawn into a good book

Writing long-form blog posts

Meditation

Listening to podcasts on long runs or rides

Staring out into space, lost in thought

One-on-one and small-group conversations
The following things do NOT sound fun to me:
Big late-night parties

Feeling stuck with a group

Networking events

Smalltalk

Team sports

Anything crowded
Myers-Briggs says I'm an INFJ. I say I don't need constant socialization to feel energized or validated, but I'll probably seek out some kind of interaction after enough solid days of navel-gazing on my own. Please excuse any rusty social skills during this solo journey.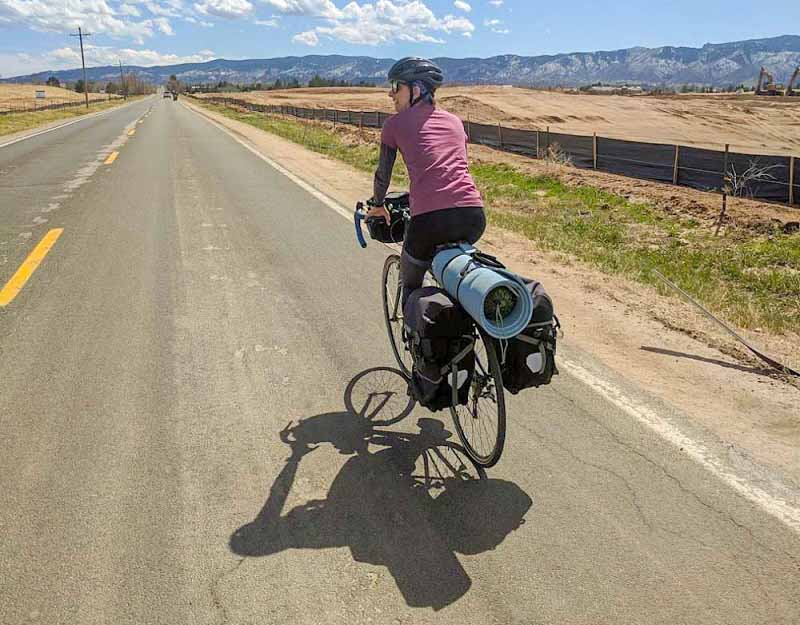 I'm passing through Colorado
The TransAmerica Bicycle Trail passes through my home turf of Colorado, so I'll have a chance to see close friends and family halfway through the trip. Three CO highlights to look forward to:
I'll be organizing a camp-out near Breckenridge for any of my Denver friends who want to meet me for some roasted mallows

If I peddle as fast as I can, I'll arrive on bicycle to a ranch in southeast Colorado in time for the wedding of my dear friends Alex and James

For anyone at home who wants to sample a day-in-the-life of my bike tour, I'll be staging a ride-along from Pueblo, CO to Ordway, CO, complete with a hotel option.
Friends have an open invitation to join me
Do you want to ride along with me somewhere along my USA route besides Ordway, CO? Do I know you and like you? Then get in touch! I'm keeping my schedule flexible but I'm willing to coordinate with visitors. Self-supported touring gear is a plus; hotel points and credit cards also work for a few days of lighter touring.
The downsides of a solo bike tour
Every rose has its thorns. Here are a few aspects of solo travel on bicycle that I'm not looking forward to.
More expensive
When you're traveling in a group of two or more, you can pool your funds and split a lot of costs. Campsites, hotel lodging, and food are all cheaper when shared.
More gear
A group can divide the weight of certain gear items amongst themselves, lightening the load for everyone. Meanwhile, I have to lug around my own tent, tools, and cookware.
More work
In addition to carrying more as a solo rider, I'll also be doing more. Setting up camp, packing it back down, scouting campsites, cooking, and bike repair are all assigned to me, myself, and I.
More selfies
One of my biggest laments from solo travel is that the photos turn out lonelier. Either they have no people in them, or they're taken by a careless passerby, or they're selfies. Get ready, Instagram. My selfie arm and I will keep 'em coming.
My Spin On It
Going solo on this trip was a very weighted decision. In the end, I value the autonomy of it and the fun of meeting people as an individual. Hopefully, solo won't mean all alone all the time.