Don't Miss the Adventure Cycling Association HQ to Learn How It All Began
Missoula, Montana isn't quite on the TransAmerica Bicycle Route. You have to pedal about nine extra miles north from Lolo in order to reach it.
It's worth the detour.
Missoula is a fun, bike-friendly little city I'd been wanting to check out. I also wanted to visit the Adventure Cycling Association. They're the non-profit organization that has been mapping the TransAmerica Bicycle Route and advocating for travel by bicycle since 1976.
I stopped by their office in downtown Missoula and ended up staying for a whole afternoon. Here are my favorite parts of the visit: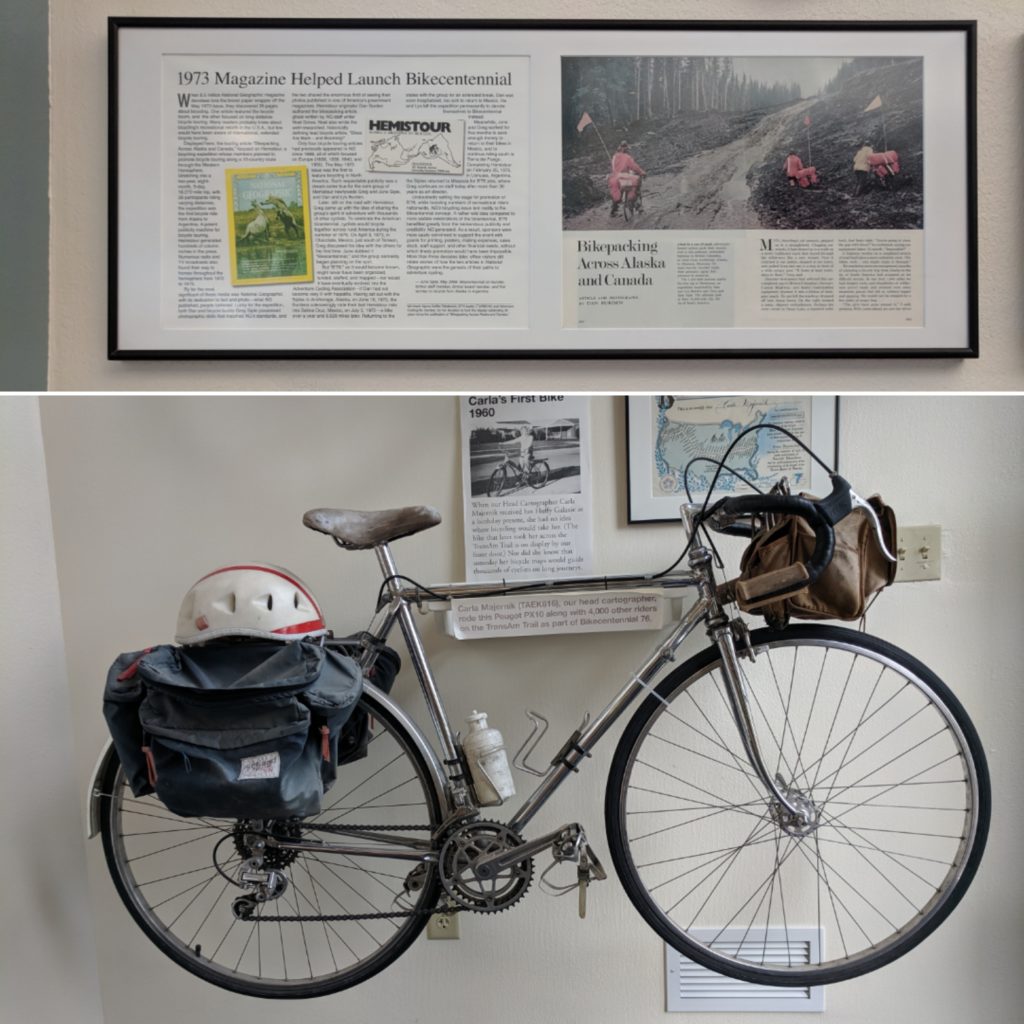 Take the History Tour
The ACA Headquarters is part-office, part-museum commemorating the original TransAmerica bike ride in 1976. This route started as a movement called "Bikecentennial" to get as many people as possible to cross America on bicycle for the country's 200th birthday. Around 4000 riders made the journey, mostly in small groups moving both eastbound and westbound.
Jeff, the greeter, brought the story to life as he walked me through the building. Hung on the walls were bikes that the founders had toured on while scouting the route in the early 1970s, complete with their helmets and panniers. The walls are lined with old photos of that original ride, which ignited my imagination about what that must have been like. It was really a treat to see the roots of this particular route and what it has evolved into today.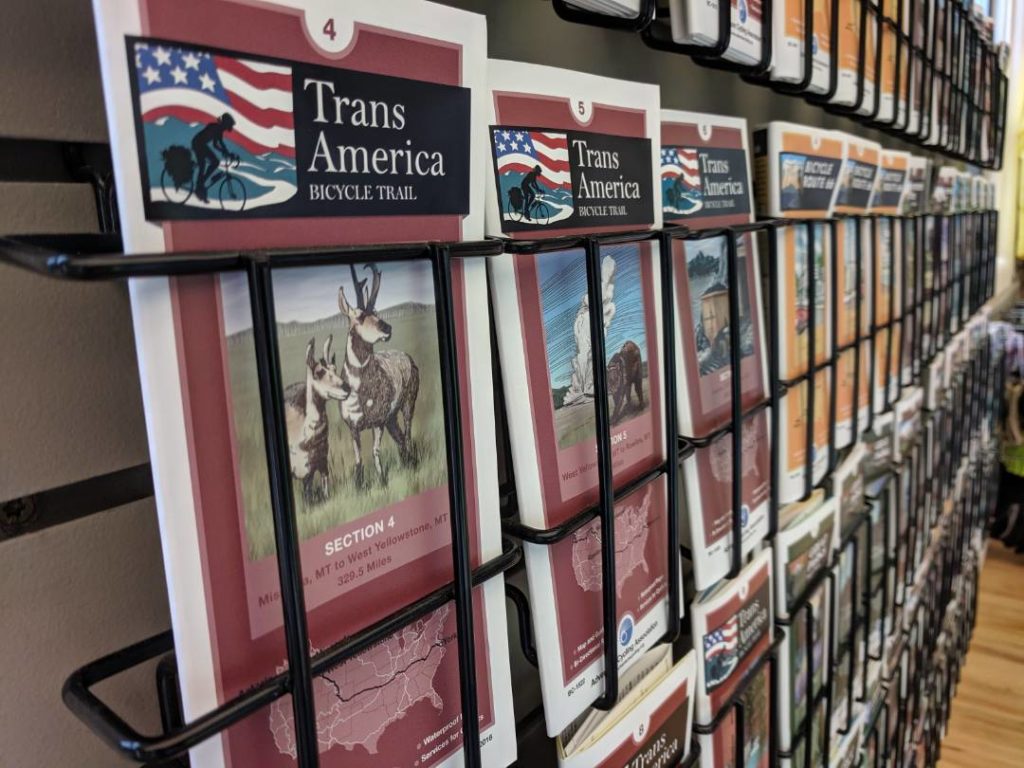 Go Gear Shopping
The ACA Headquarters sells most of the maps and gear you'll find on their Cyclosource online store. It's a good opportunity to get any of the bike touring items on your list.
I decided to buy the paper versions of the official maps, after I had trouble finding a good road map of Idaho. I also downsized my safety vest to a safety triangle that I'll be more likely to use.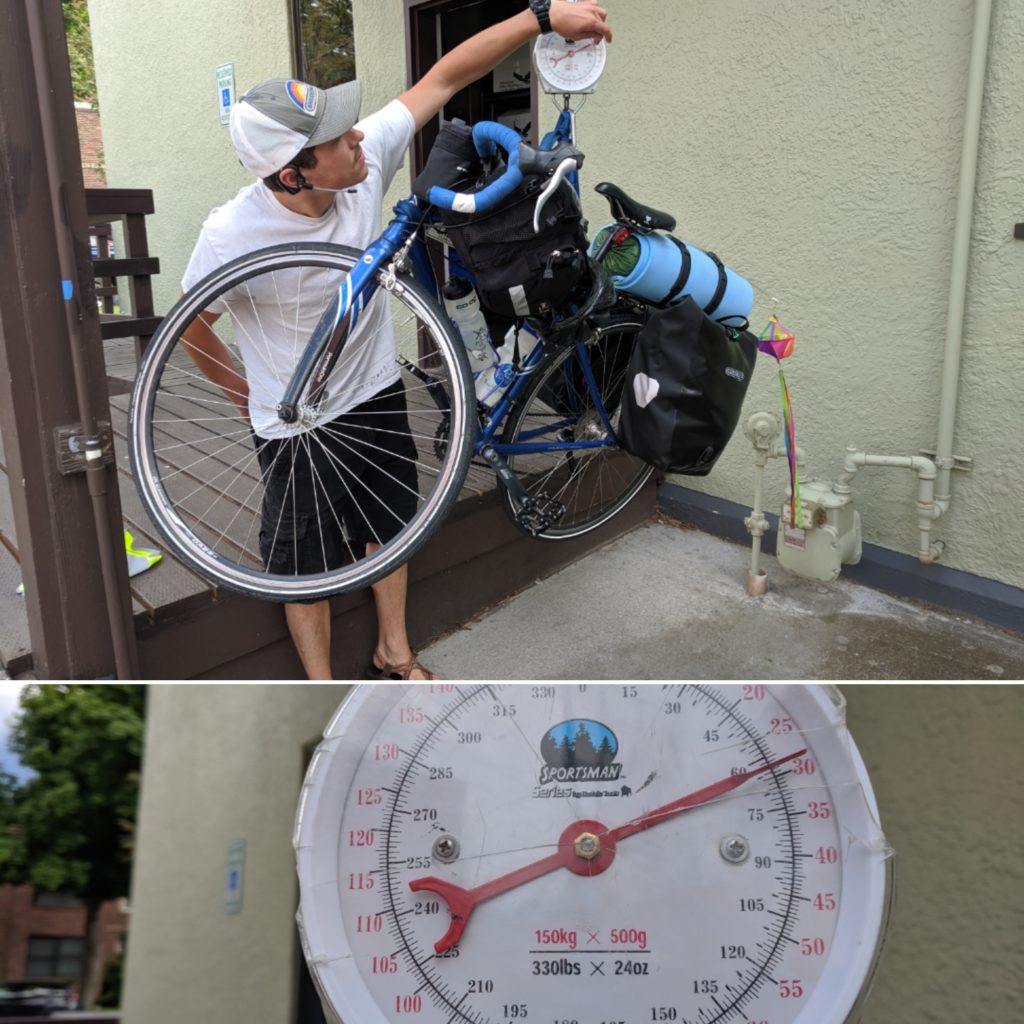 Weigh Your Bike
A number of people have asked me how much my loaded bicycle weighs. I'd checked using a bathroom scale at a Warmshowers host home back in Grangeville, Idaho. There, it had weighed in at 70 lbs fully topped off with water and food.
At the ACA headquarters, there's a more sophisticated setup where they'll hoist your bike up with straps and weigh it with a hanging scale. This time, with a half-supply of food and water, my full rig weighed in at 63 lbs. So I'd say it fluctuates between 60 and 70 lbs.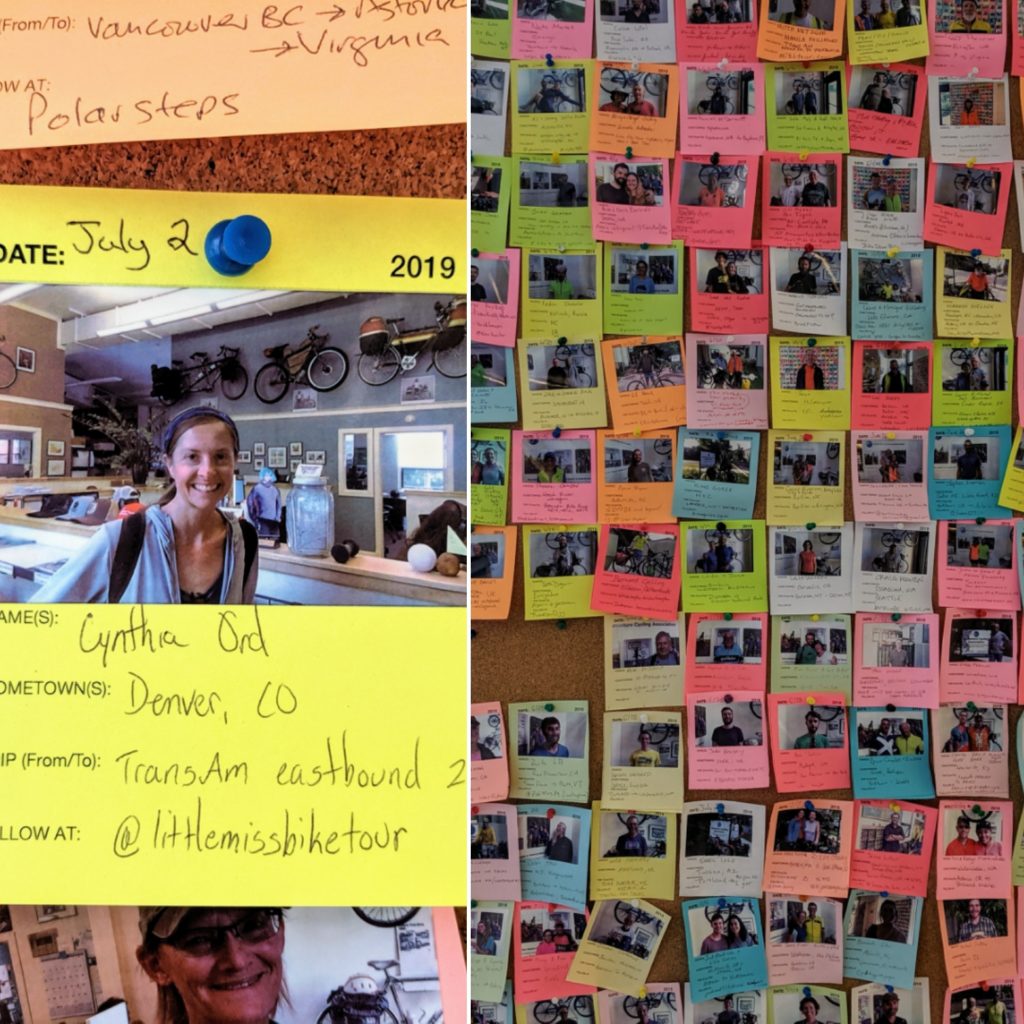 Get Your Photo on the Wall
You can't leave the ACA headquarters without adding your photo to the wall. This is your chance to see all the people who have checked in before you. Chances are, you'll run into them on the road at some point if you haven't already. The ACA estimates that about 1000 to 1100 cyclists check in at the ACA headquarters each summer season and add their photos to the wall.
I smiled for the camera, feeling genuinely happy that I was part of something bigger — a classic experience shared by thousands over the past decades. The Bikecentennial movement of 1976 has evolved into a full network of mapped bike routes and an organization of 40+ people who are keeping the dream alive. Go meet them and check it out!