How cycle touring through wide-open Wyoming had its spiritual moments
I'm not a big church-goer, but churches are the way to go when it comes to overnight havens for cyclists. That, combined with two "trail angel" encounters and winds that change from the breath of gods to the breath of demons, made Wyoming a spirit-stirring kind of ride.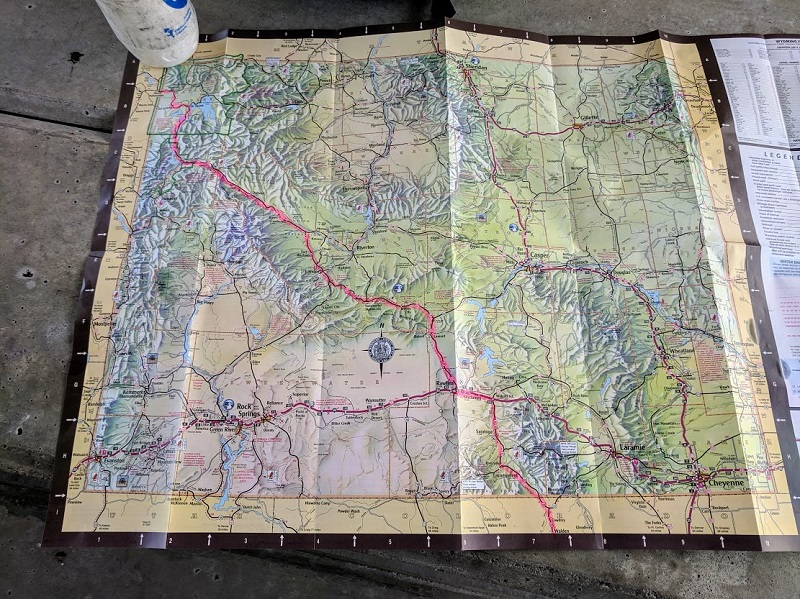 The pickup truck trail angels near the top of Togwotee Pass
I hit a new daily mileage record in Wyoming — almost 95 miles from South Yellowstone to Dubois, WY. That ride also broke a vertical gain record of over 5000 feet on Togwotee Pass. It was one of my all-time favorite riding days. The sky was clear, the wind was at my back, and I was feeling energized.
At about mile 60, as I neared the top of the pass, a pickup truck pulled over in front of me. In its truckbed were several touring bikes and panniers. Out of the cab tumbled an Australian group who had finished a cross-country route, and now they had rented a truck to get themselves and their gear to the airport. They spotted me on the road and decided to work a little trail angel miracle. "Let us take your bags to Dubois," they insisted. "It will make your descent even better!"
Before I could argue, they had loaded my bags into the truck and drove off. I was a bit stunned. My bike felt so naked without the load, transformed back into the unencumbered road bike it used to be. I took off toward Dubois, feeling lighter than air as I freewheeled down the pass and coasted the final miles in to Dubois.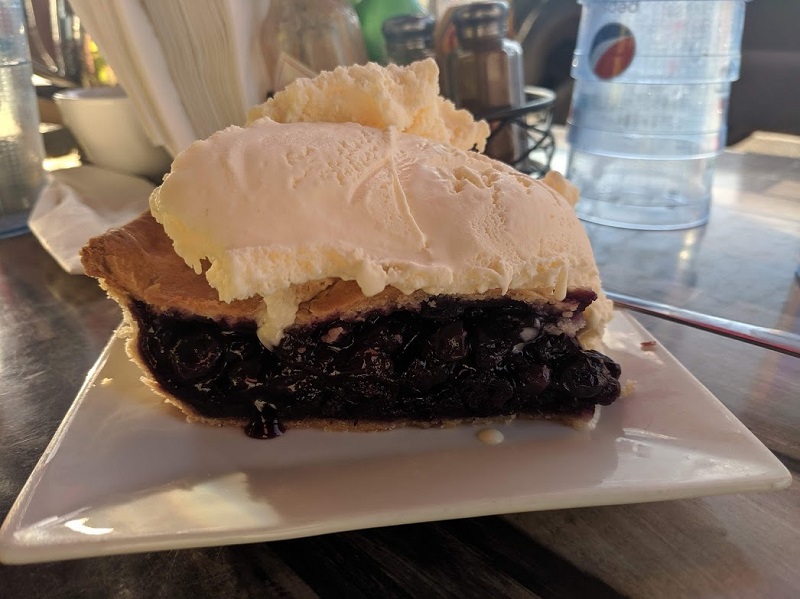 Stay at St. Thomas Presbyterian Church in Dubois, Wyoming
The Australians had mentioned St. Thomas Church, so that's where I headed when I reached the town of Dubois. From the log cabin-looking church, I heard strains of "Amazing Grace" from a jam session. Next door to the music room, the community room was left unlocked for cyclists. Sure enough, my panniers were inside waiting for me. Miracle delivered, the Australians had vanished. It was just me and a kind older cyclist from Holland named Bernard who would stay overnight at the church.
As part of their biker/hiker ministry, St. Thomas Church provides cots for their guests. They also offer amenities like WiFi, a secure bike storage area, and a bathroom but no shower. After several days of camping in and around the Wyoming national parks, the cot in the community room felt like five-star hospitality. If you pass through Dubois, be sure to stay here. Also, head to Cowboy Cafe just around the corner. They're famous for their huge slices of berry pie a la mode. Heavenly.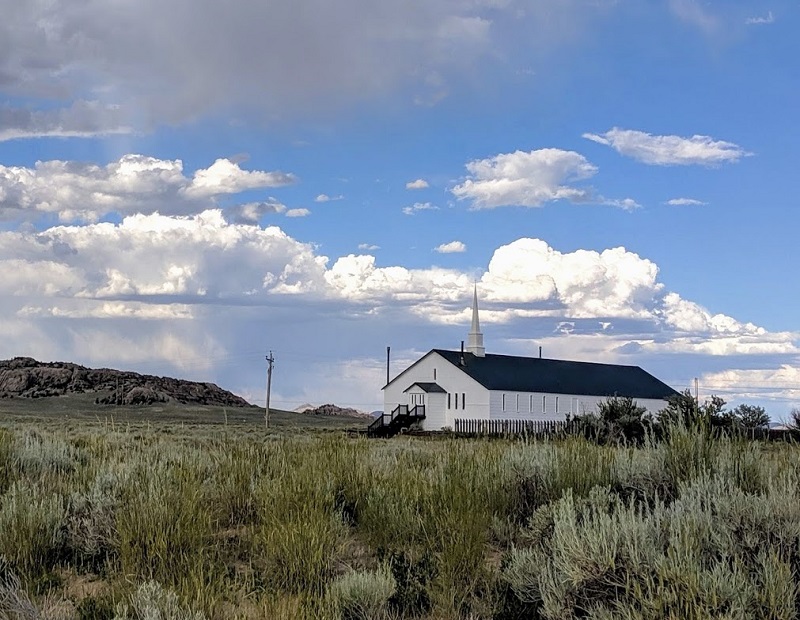 Stay at First Baptist Church in Jeffrey City, Wyoming
Two days later, I found another church that opens its doors to cyclists in Jeffrey City, Wyoming. Jeffrey City is anything but a city. With a population of 58, it looks more like a ghost town than a metropolis. I pulled up to Split Rock Bar, where the map directed us to ask about church accommodations. Inside, Bernard the Dutch cyclist and I cooled off with a drink. He couldn't stop taking photos of the bar's taxidermy, jukebox, and Americana details.
The bar staff pointed us to First Baptist Church down a dirt road. All white with a green roof and spire, it looks so dignified on the open plains. A sign instructs cyclists to go around back to the basement. We found the door unlocked and couldn't believe our eyes. The huge basement area welcomes cyclists with a ping pong table, a fully equipped kitchen, bathrooms with showers, and several separate rooms with air mattresses for sleeping.  The walls serve as a sprawling guest book, where hundreds of travelers have markered messages and sketches. I drew my logo on the wall and made myself at home. Thank you, Wyoming Christians, for another good night's sleep.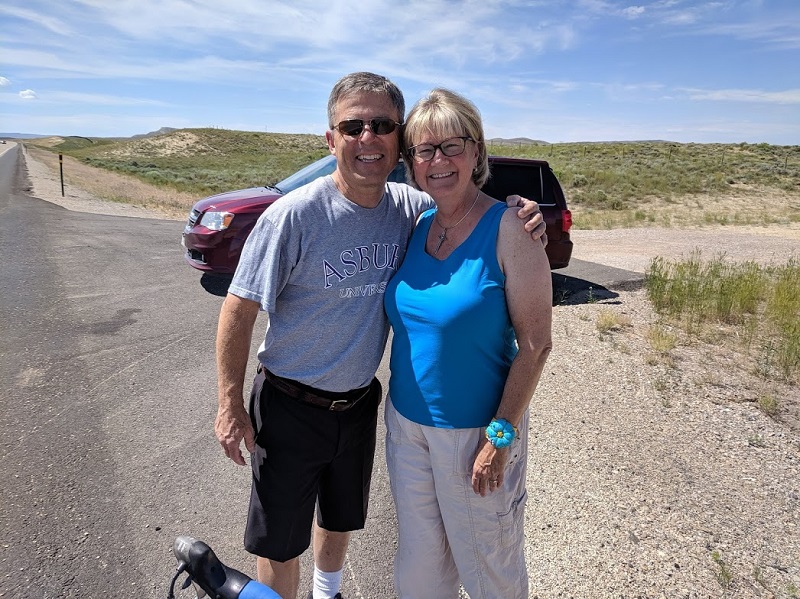 The trail angels in the support van near Rawlins, Wyoming
From Jeffrey City, I set out toward Rawlins, WY. I knew it would be a desolate stretch with no services along the way, so I stocked up on water. There were two kinds of riding days in Wyoming — the hot, difficult headwind kind and the pleasant, breezy tailwind kind. Luckily, this day was the latter. I was cruising along making good time when a red van pulled over in front of me. A woman got out and extended her arm toward me. As I approached, I saw a water bottle in her hand.
I pulled over and accepted her kind offer, and we got to chatting. The husband was on his own cycle journey around the USA, and the wife was joining by driving the support van. It was their retirement dream trip. I couldn't help but notice the Christian cross necklace she was wearing. I thanked them for being trail angels, and she exlaimed, "Of course! We're Christians!"
I claimed my Catholic Christian heritage and told her that this has been a very faith-affirming ride. She was uplifted. "You know what? Let's say an open-air prayer, right here." There on the roadside, she thanked God for the beautiful scene around us and for new connections. Amen to that.