58 data points from my summer-long bike tour on the TransAmerica Route
People often ask for numbers. The most common questions from curious bystanders in convenience stores and parking lots were:
"How far are you going?"
"How long have you been doing this?"
"How far do you usually ride in a day?"
Numbers help us picture otherwise unimaginable things. They help tell the story. So I've taken everything I quantified during my trip, made a big spreadsheet, and then pulled the stats.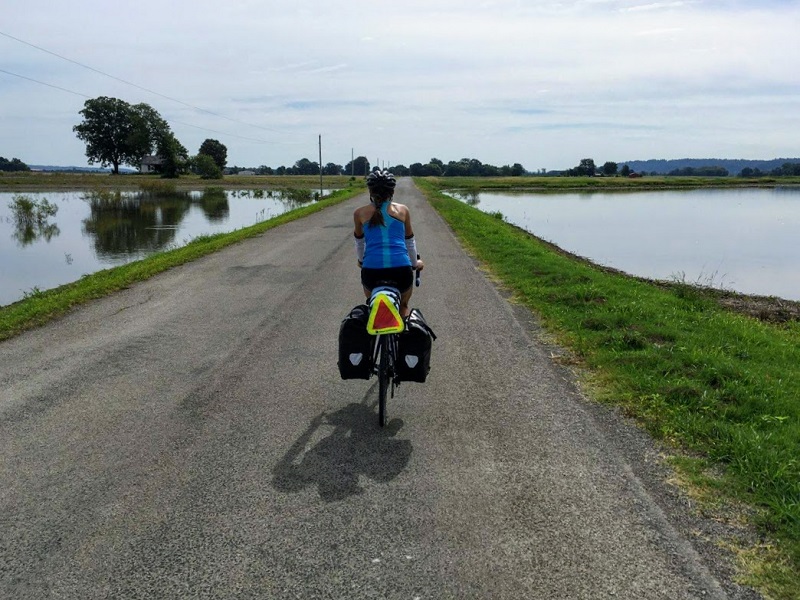 The Ride
Most of my ride data came from my Garmin, which I would then sync to my Strava account. It's imperfect, as there were times that I would forget to start recording the ride until a mile or two in, or forget to pause or unpause it during out-of-the-saddle breaks. 
Grand totals 
4,455 miles         

Total mileage

208,061 ft           

Total climb (that's about 39.4 vertical miles)

75 days                  

Total days

67 day                    

Riding days

 8 days                   

Rest days (or off-route days)

399.8 hours       

Total moving time spent on the bike (that's about 16.6 days)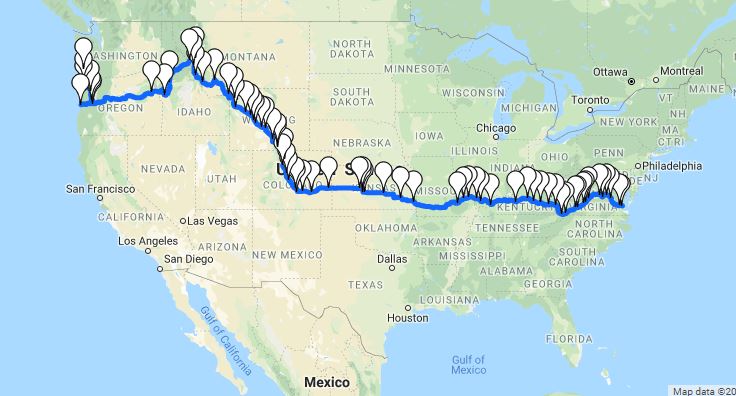 Averages
65.3 miles             

Average mileage per riding day

3,090.3 ft              

Average climb per riding day

5 hrs 43 min       

Average moving time per day

11.1 MPH              

Miles per hour while on the bike
Maximums
98.3 miles           

Highest mileage in a day (on Day 65, the final stretch of Kentucky)

7,201 ft                  

Highest climb in a day (also on Day 65)

8 hrs, 55 min     

Longest day in the saddle (Day 65 for the win)

38.4 MPH             Fastest speed I reached during the tour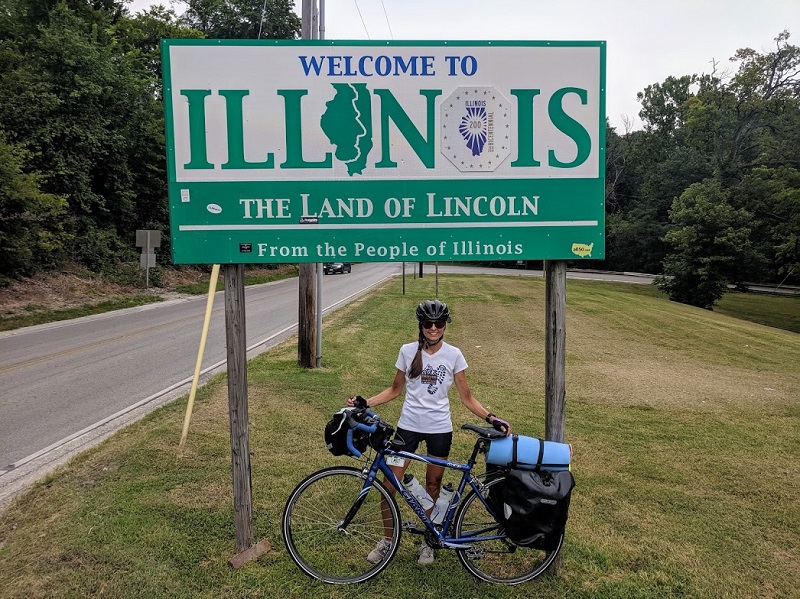 Great states
673 miles         

Distance in

Oregon

(longest state)

152 miles         

Distance in

Illinois

(shortest state)

37,655 ft           

Vertical climbing in

Virginia

(most climbing)

6,827 ft             

Vertical climbing in

Kansas

(least climbing)

12 days               

Time spent in

Oregon

(longest stay)

2 days                

Time spent in

Illinois

(shortest stay)
Miscellaneous outdoor adventure stats
10                        States crossed
6                          Hot springs visited
2                         

National parks visited

5                         

State parks visited

1                           

Mountain summited on foot (Long's Peak, 14,259 feet)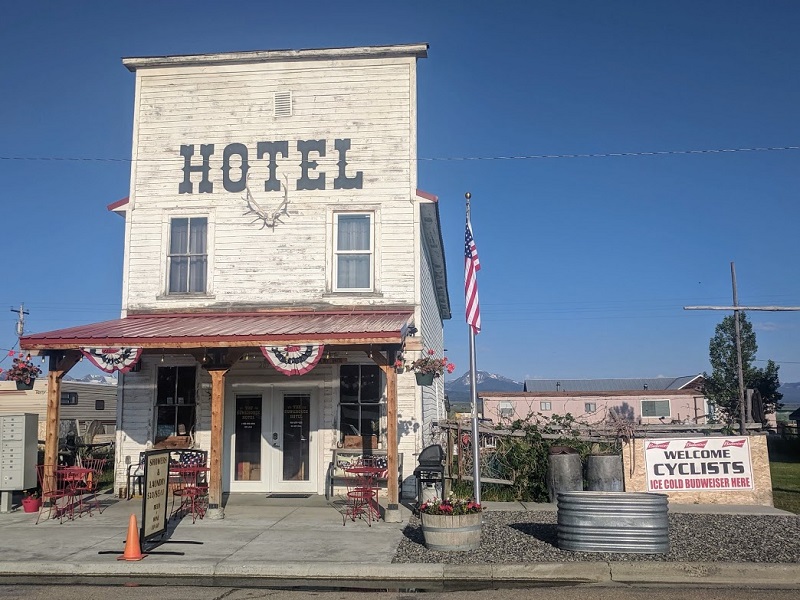 Touring Style and Costs
Along my trip, I met cyclists across the whole spectrum of style. One couple was staying in hotels every night of the trip. A few people didn't even pack stoves — they were eating out the whole way. On the other end, there are folks who like to camp as much as possible (especially at free sites) and cook almost all their own food. 
I was somewhat of a "mid-range" cyclist. Here's how my lodging and dining looked. I logged all my lodging, but I didn't track or document the food very well (too busy eating it), so the dining numbers are rough estimates.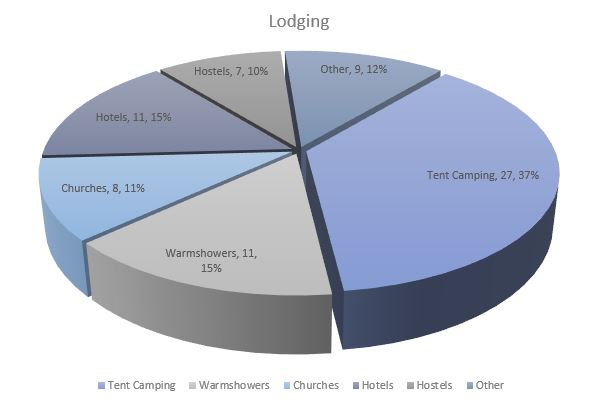 Lodging
27 nights             

Tented camping

11 nights             

Warmshowers hosts (2 nights camping in hosts' yards)

  8 nights             

Churches that shelter cyclists

 11 nights             

Hotels (private lodging)

  7 nights             

Hostel nights (shared lodging)

  9 nights             

Other (mentionables: a fire station, a rec center, a park shelter, and home)

$675                      

Total lodging spend

$   9                        

Average spend per night on lodging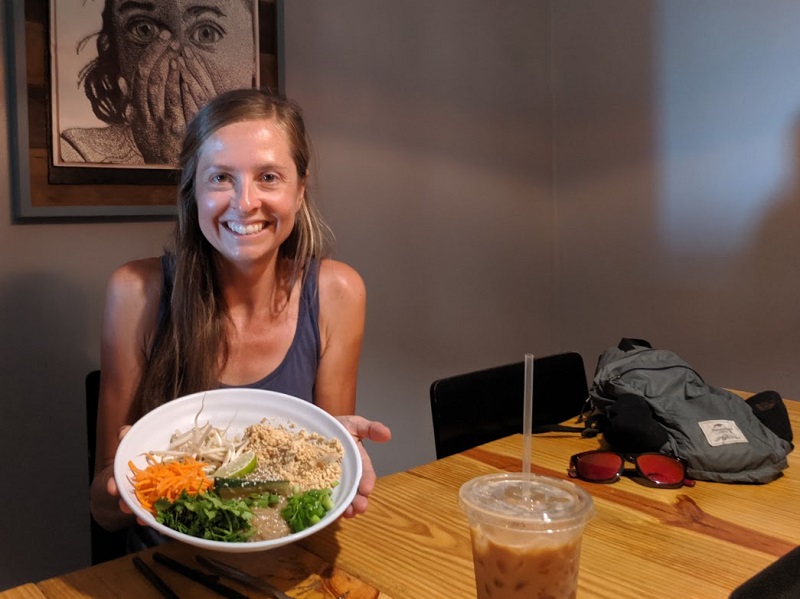 Dining
  20                       

Meals cooked on my camp stove (rough estimate)

  70                       

Restaurant meals (approximately once per day)

130                       

Other: leftovers, prepared foods from stores, etc. 

8 oz                     

Amount of stove gas I used (about 1 tank)
Budget
$1,800               

Total trip spend (approximate, not including travel to and from)

$     24                 Average daily spend (approximate)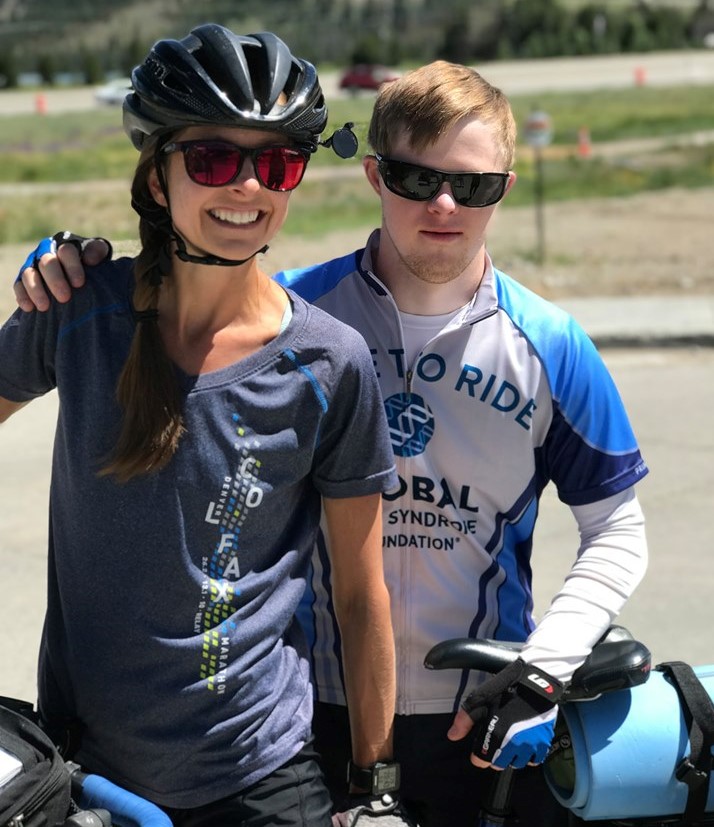 Fundraising  for Children's Hospital and GDSF
This year, I participated in the Courage Classic charity ride to benefit Children's Hospital Colorado and the Global Down Syndrome Foundation. You can read about my motives and ties to this cause here. 
When I hit the first 1,000 miles of my trip, I set my fundraising goal at $1,000. I'm thrilled to report that I exceeded my goal. Huge thanks to all my generous donors. Here are the numbers:
$1,030               

Total raised

 15                     

Total donors

$68.66               

Average per donor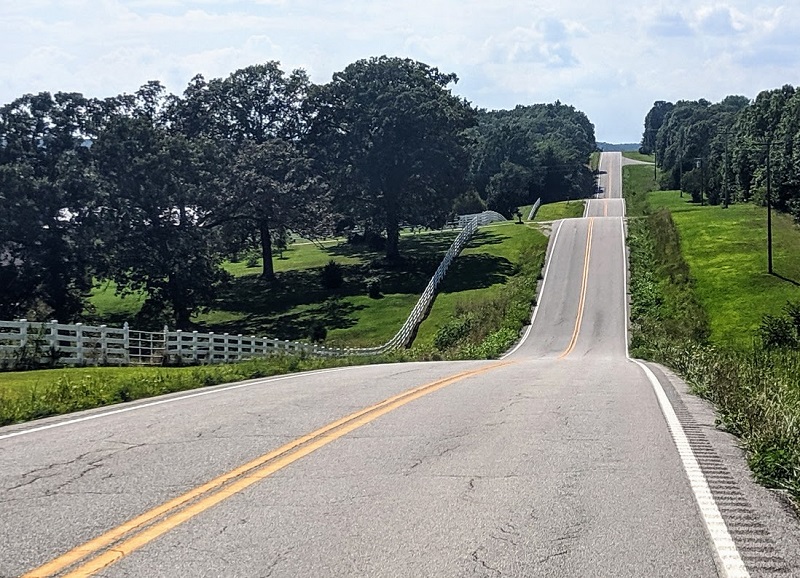 Health and Fitness Stats
I've never felt healthier and stronger than I did during this ride. It's hard to quantify what this ride did for my sense of power and wellbeing, but I did gather a few stats. 
I also gathered some numbers on my dear bicycle, Blucifer, who performed amazingly well throughout the ride. By the end of the ride, we were both finely tuned athletic machines.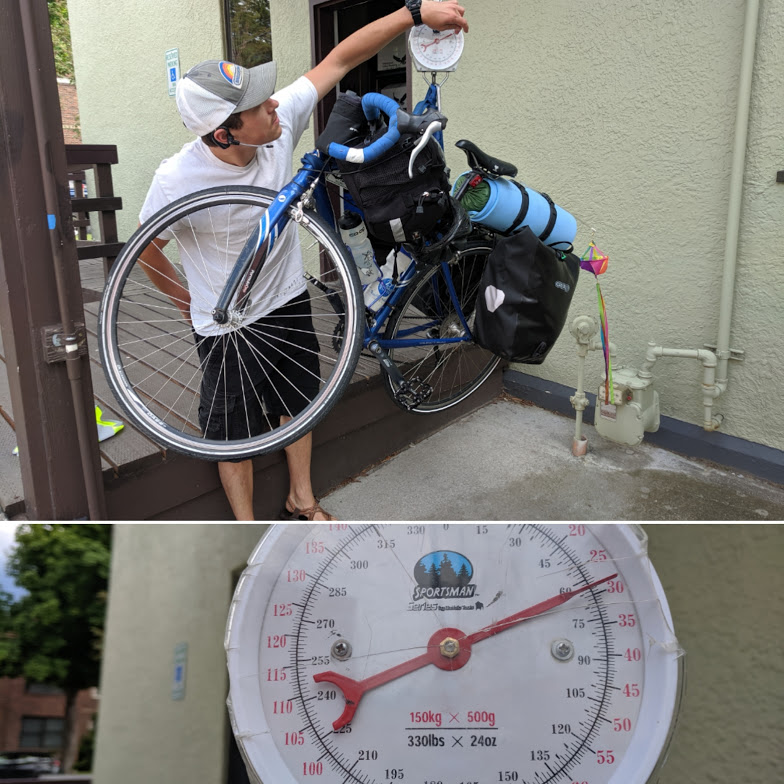 Blucifer
60 – 70 lbs     

Blucifer's weight range, loaded

22 lbs              

Blucifer's weight, unloaded

7 years            

Blucifer's age

2                        

Number of flat tires

3                        

Number of professional tune-ups en-route

0                        

Number of mechanical problems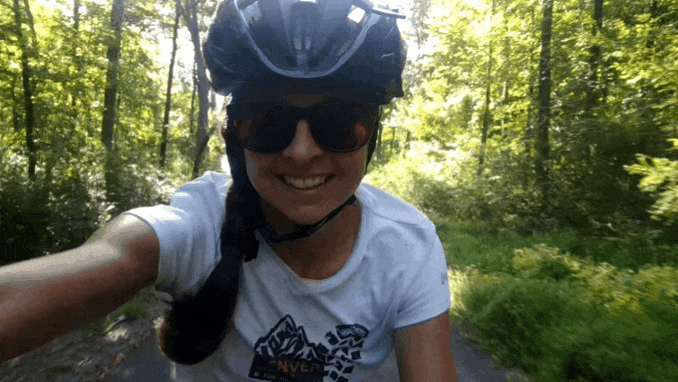 Me
99 – 102 lbs

       

My weight range during the ride

5 ft 6 in             

My height

35 years           

My age

91,456               

Total calories burned

1,365                   

Average calories burned per riding day

1                            

Number of health problems (I caught a bad chest cold)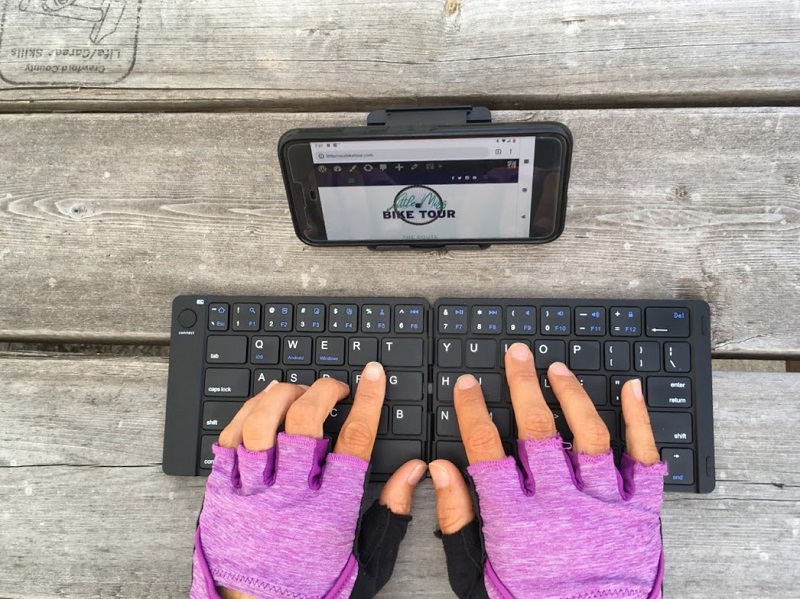 Little Miss Bike Tour
A big part of my journey was the documenting of it online. Blogging and writing is my creative outlet. Crafting these posts struck joy and deepened my experience of travel. 
I also enjoyed the social media side of it. When I was at the lowest points of the ride, it was the voices of encouragement from online that helped power me through it. 
Building a niche "influencer brand" from scratch was an experiment I've been wanting to do for awhile, for both personal and professional reasons. I'd call it a success. And it's not over yet! 
Website visitors (June 1 – Sept 1, 2019)
  3,964

Total website visitors

15,993

Total pageviews

Top 5 blog posts
Facebook
378

Page 'Likes'

Top 3 Facebook posts
Instagram 
 953

Followers

Top 3 Instagram posts: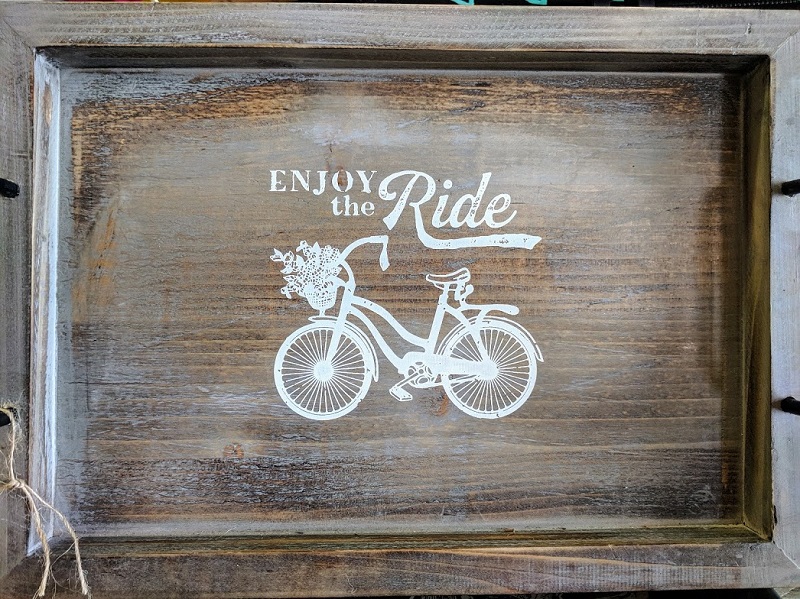 Uncountables
There are so many things I wish I could have counted along the way, but were either uncountable in their multitude or simply unquantifiable. In a world of perfect data, I know I'd be blown away by the total of:
Road angels and kindnesses from strangers

Small towns passed through or stopped in

Words of encouragement and affirmation 

Laughs shared with other cyclists on similar journeys

Songs sung along to on the road

Hills pedaled up and flown down

Bug bites of every shape and size

Slices of pie