A complete list of gear and supplies I'm packing
After laying out all the clothing I'm packing, the second part of this series is everything else that will go in my bags. Again, this is the first time I've done a bike tour, so this is the "before" list. I'll follow up with everything that makes it all the way to the end of the TransAmerican Bicycle Trail and see how much has changed.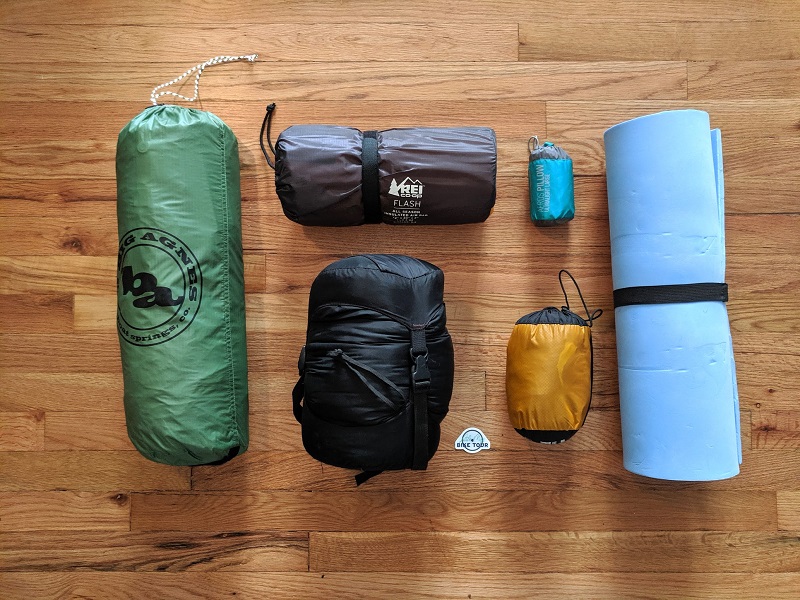 Sleep System
For my camping setup, I've gone with a full-on moveable lady lair with lots of protection against the cold.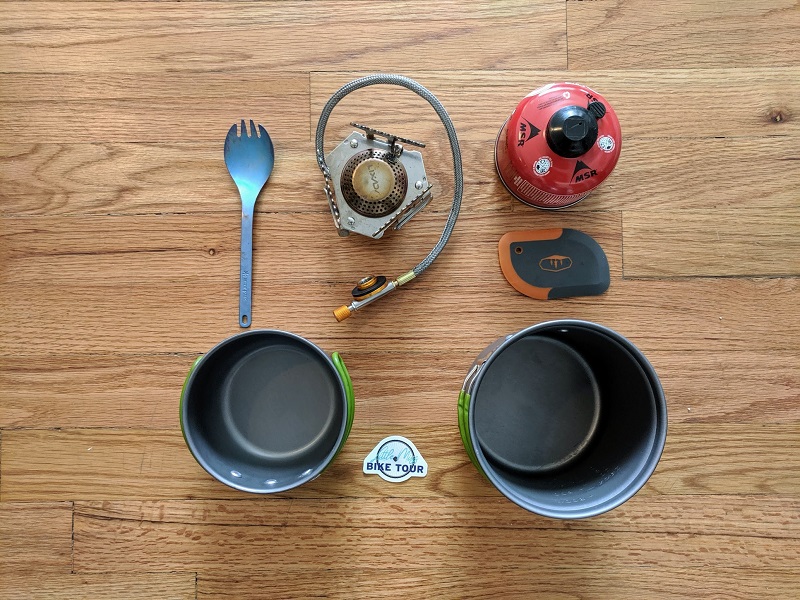 Cookware
I'm not that into camp cooking. I'll most likely be doing at least one meal out each day, but I do want to be able to heat up basic breakfasts and dinners. I did a lot of borrowing here:
Backpacking burner that takes butane fuel

Two small backpacking pots

Spork

Ultralight food scraper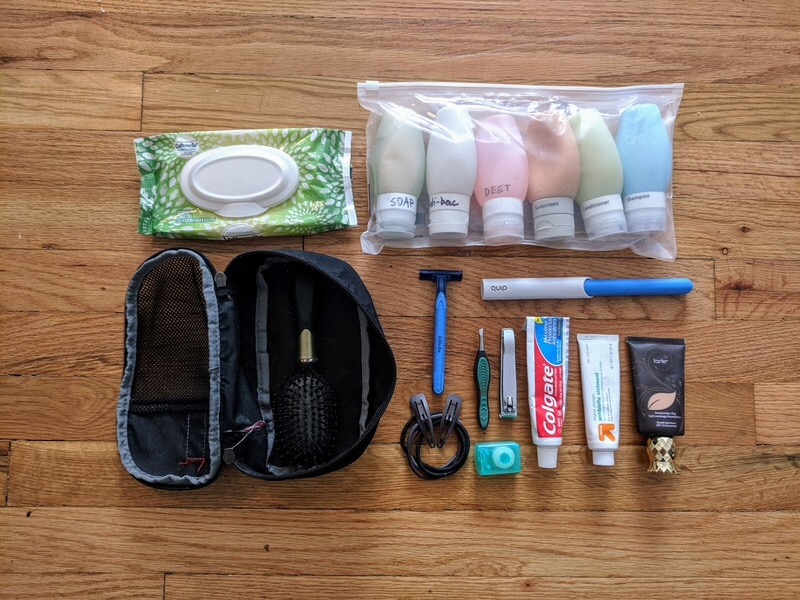 Toiletries
Admittedly, there are some vanity items here. I want to be able to groom myself at least a little after a sweaty day on the saddle. Don't judge.
Compact brush and hairbands for my hair

Quip

toothbrush, toothpaste, and dental floss

Package of wet wipes

Nail clipper, tweezers, razor

Antibacterial ointment

Tarte Amazonian face clay

foundation with sunscreen

Travel bottles

filled with shampoo, conditioner, diluted dish soap, sunscreen, antibacterial gel, and Deet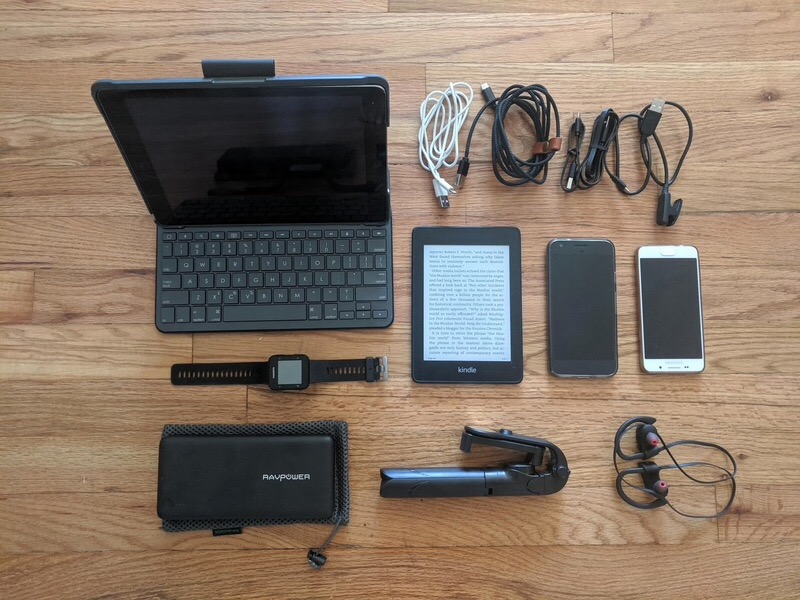 Tech and electronics
I'm bringing too much of it. Oh, the things I do to post stuff online. Some of these items are for entertainment during the long hours, some for navigation and tracking.
iPad with

Logitech Slim Folio

keyboard case. Wasn't sure about bringing this, but will help me keep blogging and journaling on the road.

Pixel 1, my trusty phone, for all the usual phone things, photos, videos, etc.

Old Samsung phone with no SIM card, used only for navigation with the

official GPX maps of the TransAmerica Trail

Kindle Paperwhite

because this thing follows me everywhere and keeps me sane.

Book suggestions

welcome!

Garmin Forerunner 35

, despite its bulkiness and short battery life, because I'll use it to track distances and sync to my Strava profile

Otium Bluetooth headphones,

to keep the tunes, podcasts, and audiobooks flowing during the long hours on the bikes and rainy days in the tent.

Tripod and selfie stick combo

. First time traveling with one of these, hoping to use it mostly for the tripod

Power Bank RAVPower 26800

to keep it all powered. This little brick weighs about a pound and takes all night to recharge, but will supply about 5 days of my charging needs. Also pictured: 4 different charging cords needed.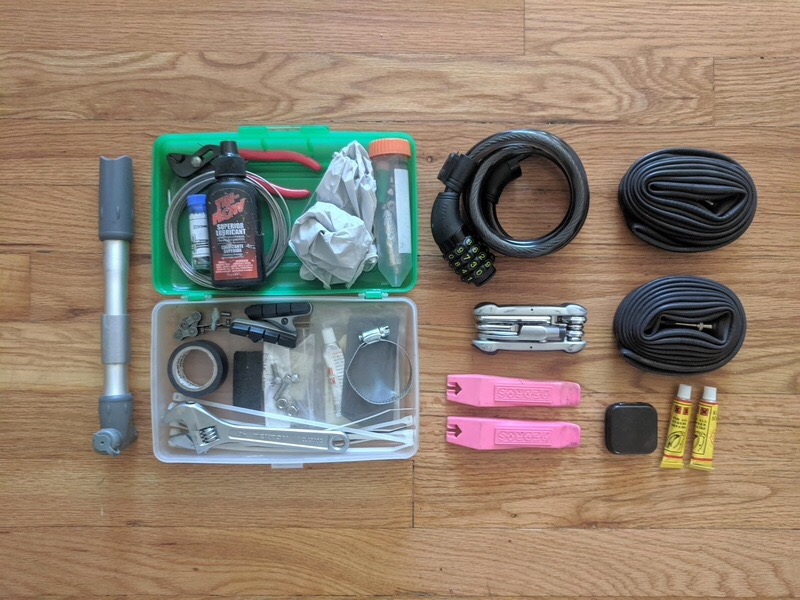 Bike tools
I've picked up a good amount of mechanical knowledge, but this part still overwhelms me. I have an amazing boyfriend/volunteer mechanic to thank for helping me prepare this part
Basics for flat tires: two spare tubes, tire levers, and a patch kit

Pocket Rocket tire pump

, with duct tape wrapped around it for storage

Topeak Hexus II Multi-Tool

for simpler things like seat adjustment, etc.

Advanced repair toolbox containing spares of most things: brake cable, gear cable, chain links, patches, brake pads, a wrench, screws and bolts, chain lube, and med exam gloves so my hands aren't always covered in chain grease

Cable bike lock

, 4 feet long, for keeping it all secure at stops and at night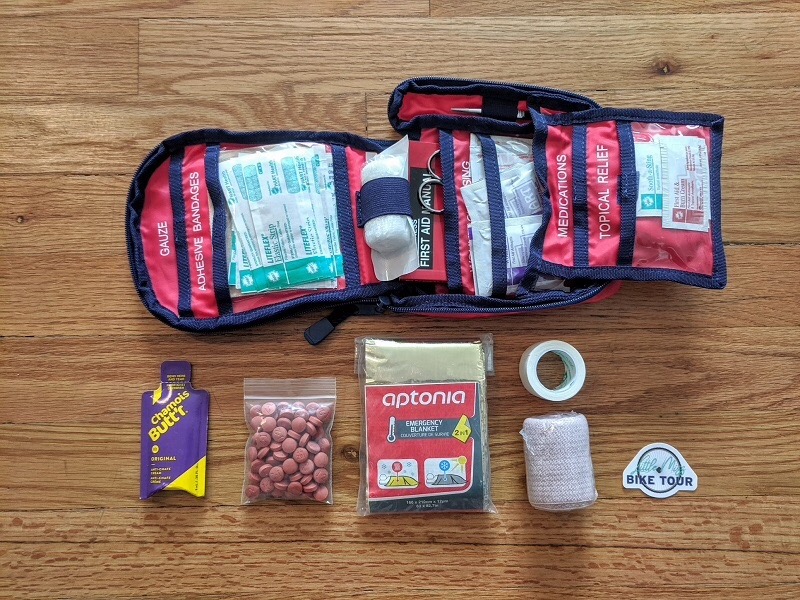 First aid
What I did here is find a backpacking first aid kit and modify it for my needs (i.e. replace bulky gauze with a lot of Advil and Chamois Butt'r)
HART Health weekend first aid kit

that contains way more stuff than I hope I'll ever need, like an emergency blanket and forceps

A LOT of extra Aspirin and ban-aids

A few packets of Chamois Butt'r for saddle sores, although I've never needed it before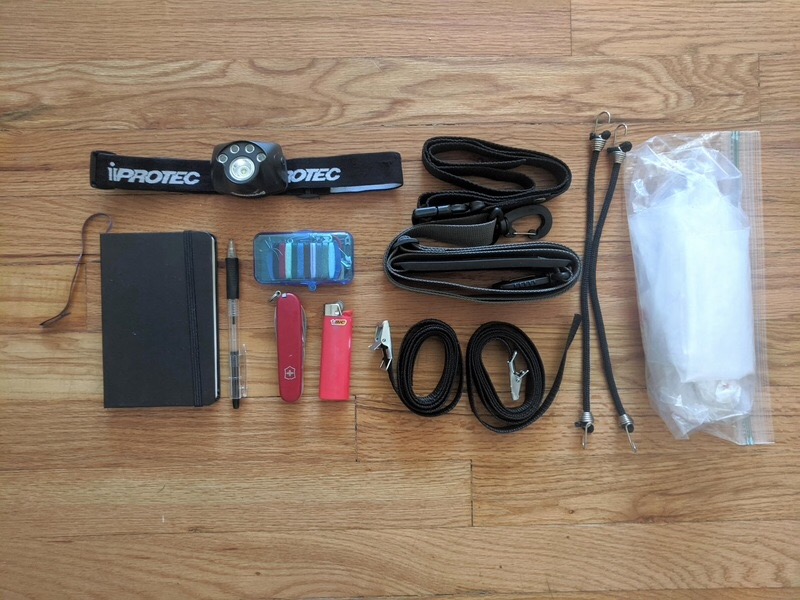 Miscellany
Finally, the assortment of things that don't fit into any of the other categories
Arno straps

to strap things to the rack, and extra straps as backup, plus 2 small bungees

Bags. Always good to have a few zip lock bags and plastic bags on hand

Headlamp, somewhat low-end due to my tendency to lose these.

Sewing kit, stuffed with extra safety pins

Swiss Army knife. Now I just need to learn how to use the tiny can opener

Notebook and pen

Lighter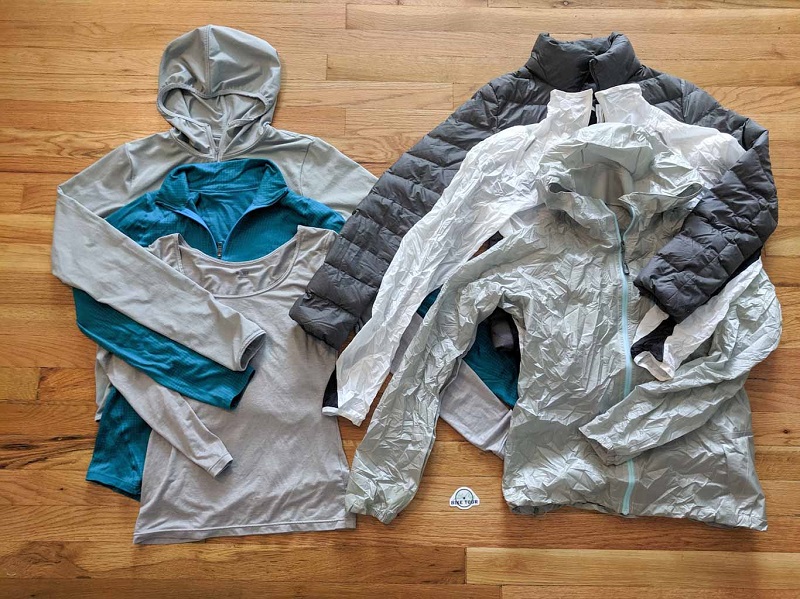 I've created an separate post to detail the clothing items I'm packing, but here's a quick summary of the categories of clothing:
Shirts and tops
Shorts and pants
Outerwear and layering
Innerwear and swimwear
Accessories
Footwear
See the complete clothing list here.
So that just about covers the equipment portion of my packing, at least to start out. It's bound to change as I shed unneeded items and get ahold of anything that's missing.
How am I doing so far? I'd love to hear from experienced bike travelers — especially women — about their most essential clothing items while on tour.

Disclosure: I included links wherever the item is still available to buy online because I genuinely want to help readers find the exact things I've listed. That said, I also want to break even on this website, so any Amazon links are affiliate (meaning I earn a small percent of any transaction).