I reached Yorktown, VA and celebrated my completion of a cross-country bicycle tour. Cheers to victory!
A common question during my 1ride was "Where are you headed?" or "Where does the route end?"
"Yorktown, Virginia!" I'd declare.
Like many of the small towns on the route, however, most people have never heard of Yorktown. With a population of less than 200 people, it's more a colonial history site than a town. It's also a great place to end an epic cross-America bike tour. Here are five ways to celebrate a completed ride in Yorktown, VA.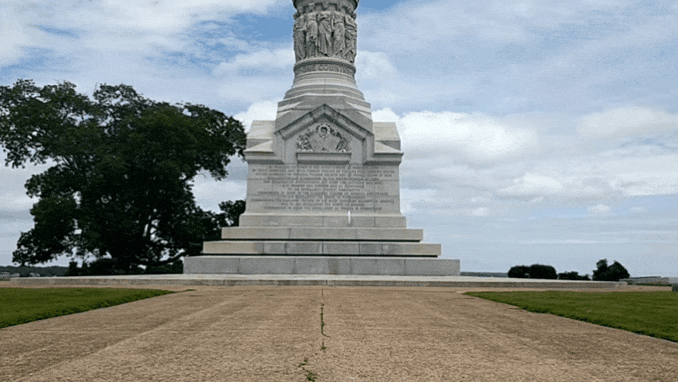 Take a few victory laps around the Yorktown Victory Monument
A lot happened on the shores of Virginia. The Yorktown / Jamestown / Williamsburg area is rich with American history from the first colony to the Revolutionary War to the Civil War.
The Battlefield of Yorktown, for example, commemorates General Cornwallis's surrender to George Washington in 1781. It's where the Americans officially won the Revolutionary War.
To commemorate this win, a beautiful white pillar monument has been constructed. When I rode up to the victory monument, I recognized it immediately. I took a minute to celebrate my own win with a few victory laps around it.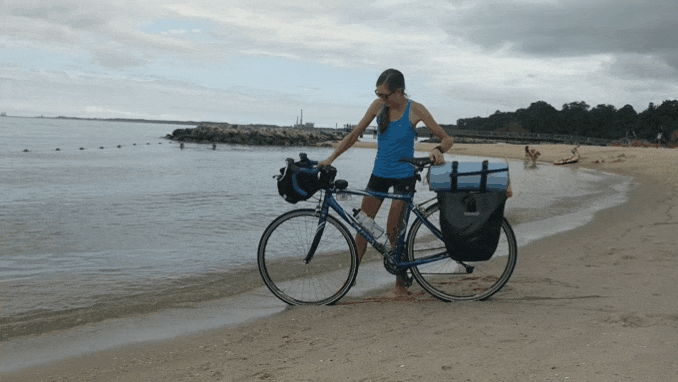 Dip your tire in the Atlantic Ocean
Back on the coast of Oregon, I had dipped my back tire in the Pacific Ocean. Here in Yorktown, I had the opportunity to complete the other half of this custom.
Yorktown isn't much of a beach destination, but it does have a few sandy alcoves that pass for beaches. Vacationers were spread out on towels and loungers enjoying the sun and sand. So I took off my shoes and pushed Blucifer to the shore. A small wave lapped up against the front tire. My dad, who had met me in Williamsburg for the final leg of the ride, captured the saltwater anointing on camera.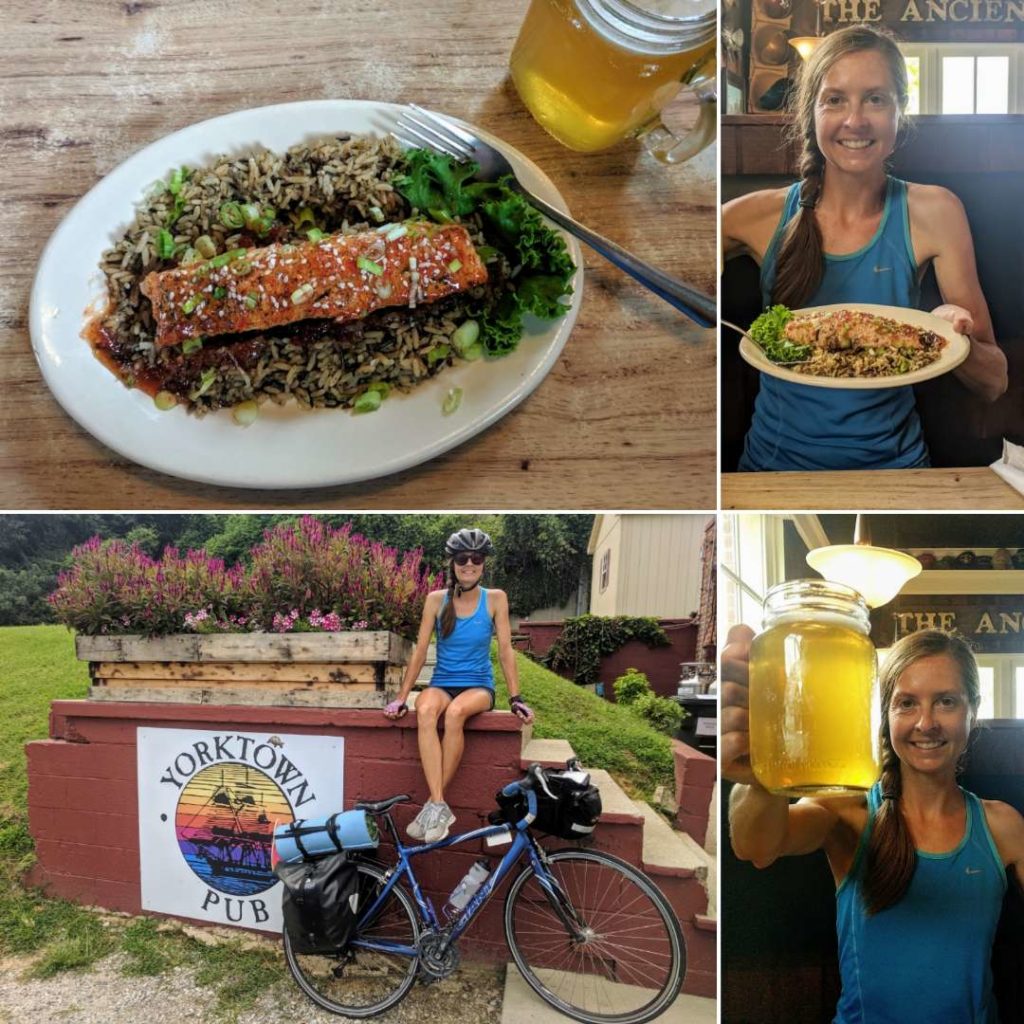 Have a celebratory drinks and seafood at Yorktown Pub
Steve, who I had ridden with for two weeks, reached the endpoint before I did. He texted me "There's a great seafood restaurant at the bottom of the hill called Yorktown Pub … it's a must!"
After sharing the route with Steve for so long, I knew his restaurant recommendations were to be taken seriously. My dad and I headed to Yorktown Pub to fill up on fish and cheers to the end of the road.
Yorktown Pub had a small but well-curated selection of craft brews on tap. I went with some sort of delicious mango IPA, which paired perfectly my Thai chili salmon fillet. They also have a scrumptious dessert menu sourced from a local bakery. My final "en route" meal ended with — you guessed it — a slice of pie.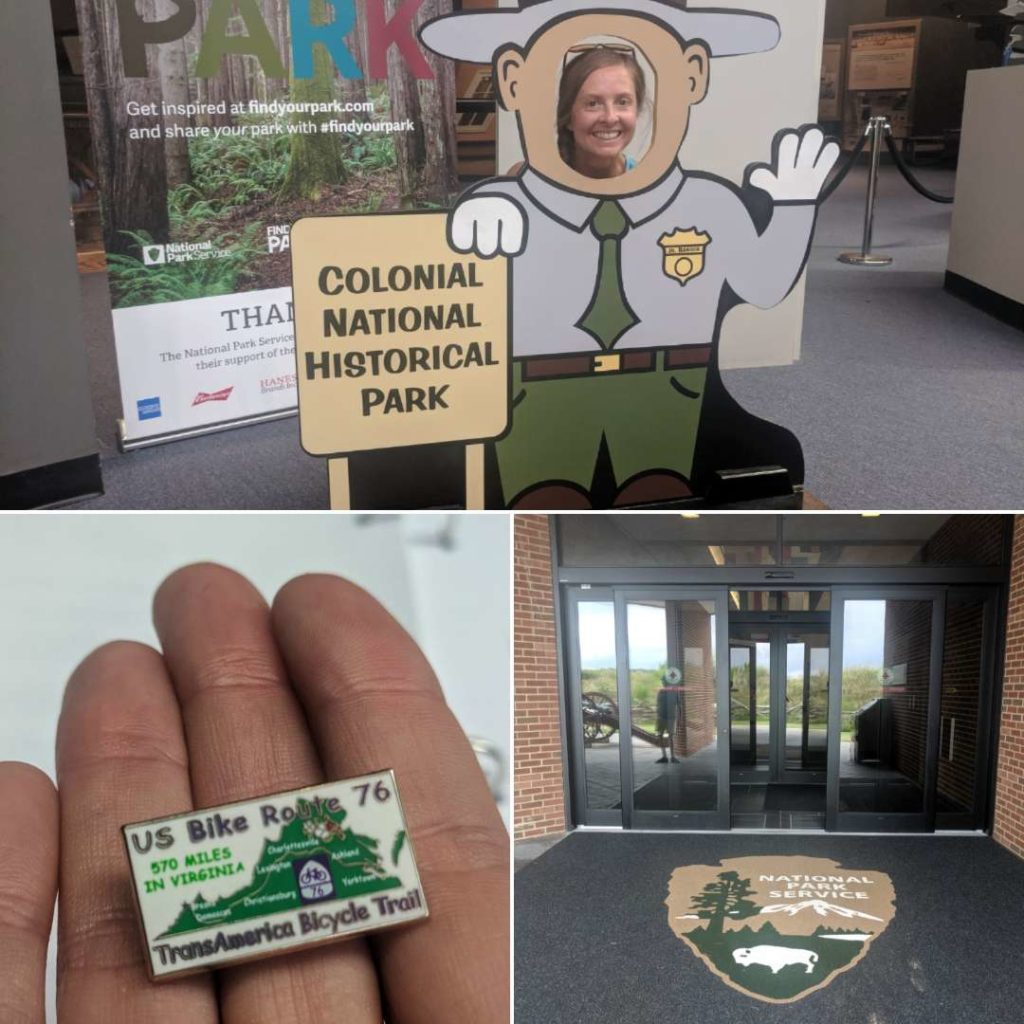 Get counted and pinned at the Colonial National Historical Park
The best surprise in Yorktown was the presence of the National Park Service. I'm an avid parks visitor and Junior Ranger badge collector, so my eyes lit up when I saw the NPS insignia as I entered the Colonial National Historical Park building.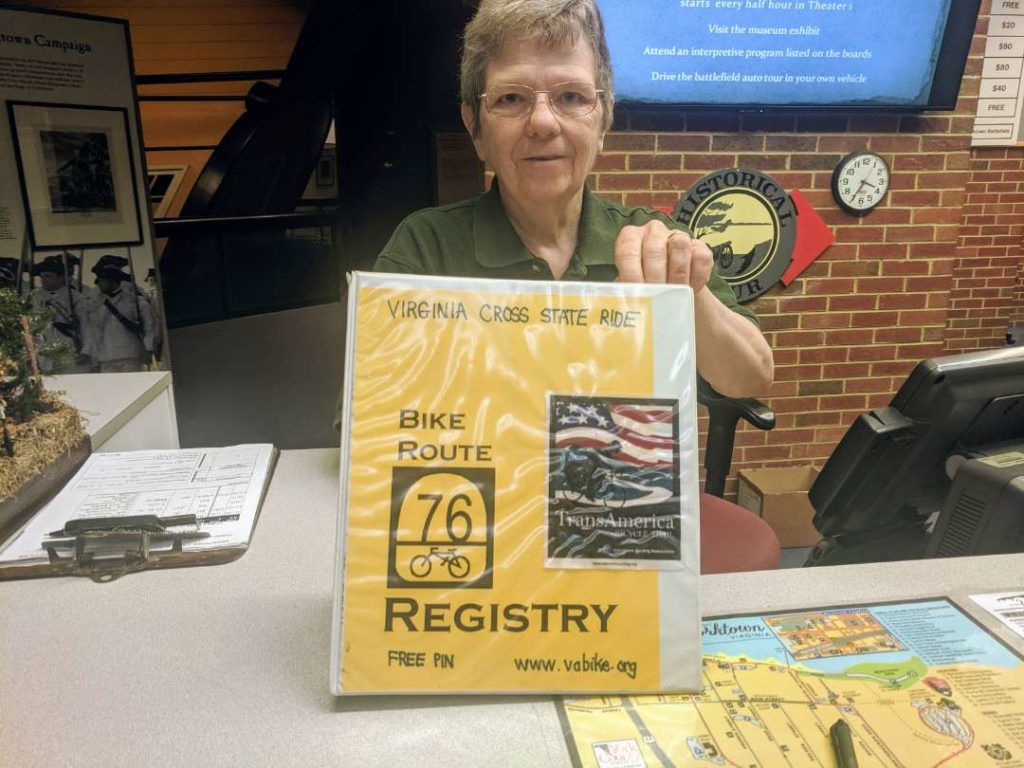 I had heard that it's important to register my ride in Yorktown. It's hard to keep tabs on touring cyclists and gather good data, so here's a chance to get counted. The more rides they document, the more funding goes to bicycle infrastructure in Virginia. Be sure to stop by and tell VDOT you were here!
For cyclists who have completed the Virginia portion of the TransAmerica Bicycle Route, the rangers have special Route 76 pins. This hard-earned pin is now the crown jewel of my badge collection.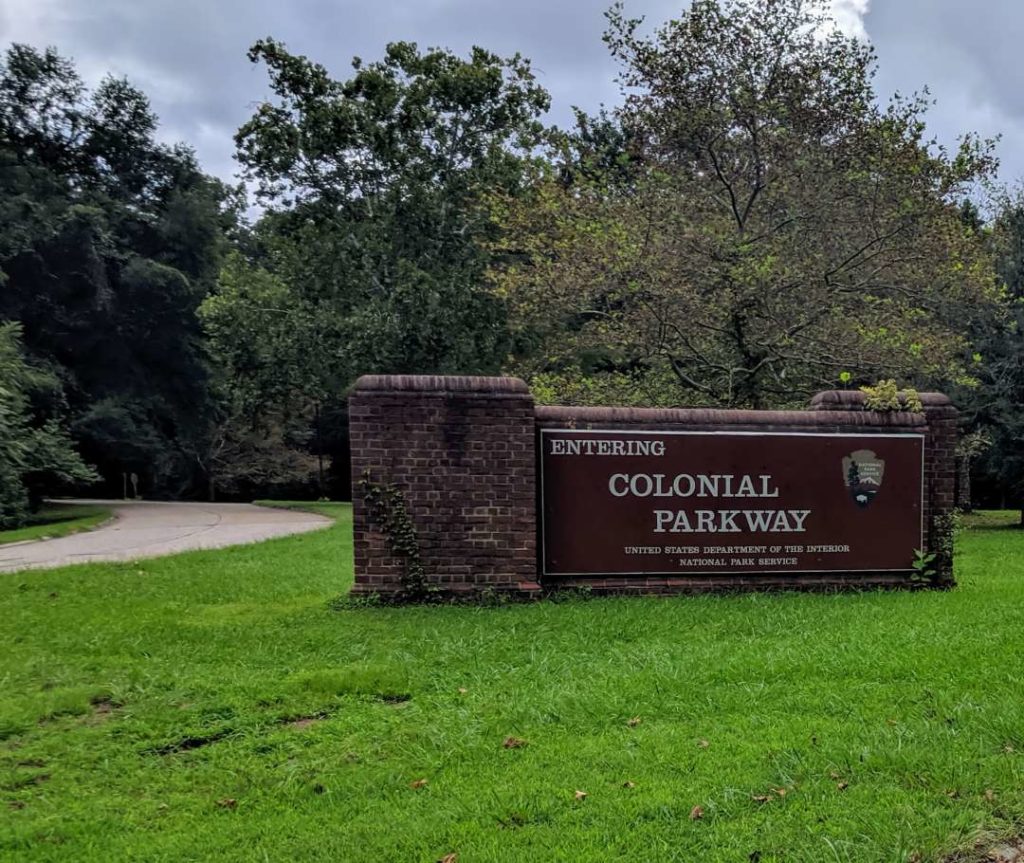 Keep on pedaling through colonial history
Since Yorktown is hardly a town, there's a good chance that you'll be getting back on your bike to reach more services. If you're looking to board a plane or a train, you'll have to keep moving to a more populous neighboring town like Williamsburg or Newport.
In my case, my dad and I had found an Airbnb back in Williamsburg. So after the victory lapping, tire dipping, drinks cheersing, and official registering, we got back on the bikes and rode another 19 miles back down the Colonial Parkway, through Jamestown, and into Williamsburg.
People spend days on all the historical site-seeing to be done in this area. I wish we'd had time to stop and read a few more placards and really feel the significance of it.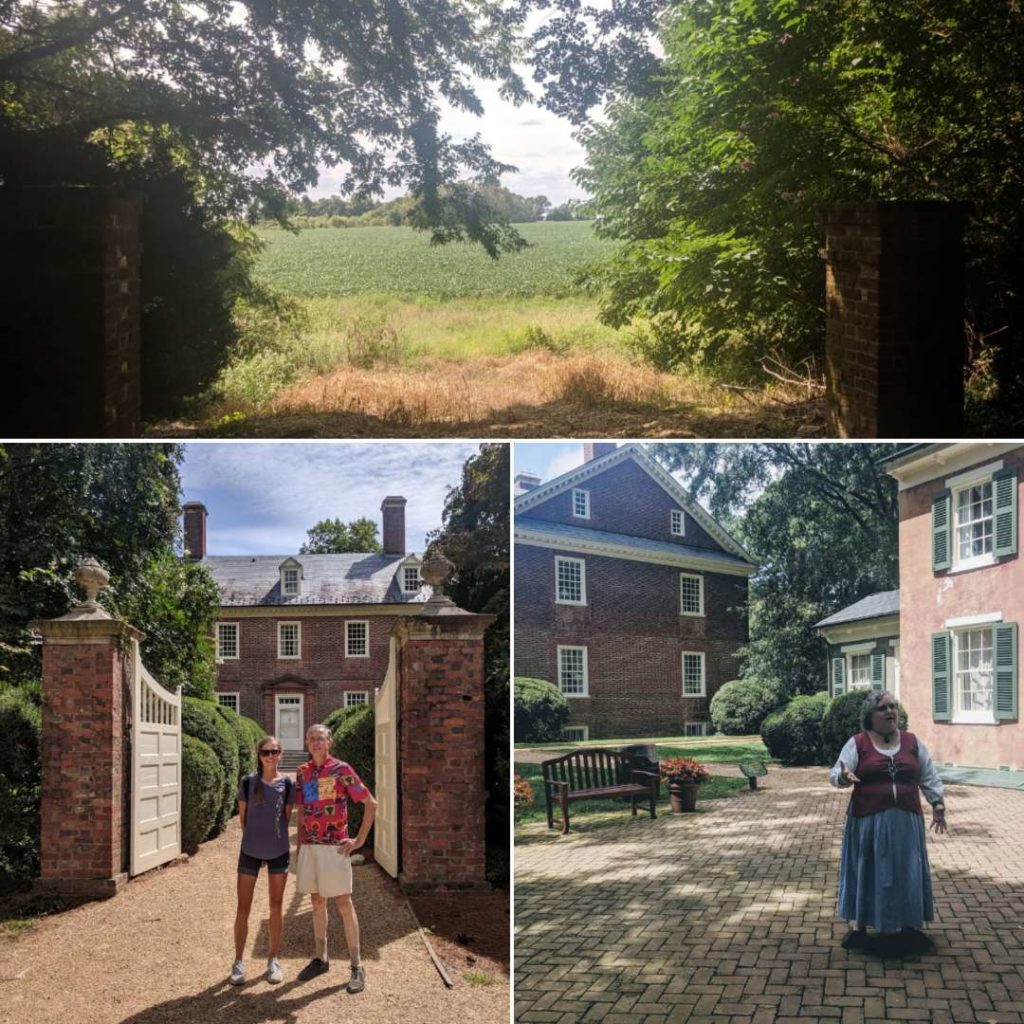 We did get a good sample of it at Berkeley Plantation, where we stopped for a guided tour. The guide, dressed in colonial garb, walked us through the mansion where George Washington had waltzed and the first Thanksgiving prayer was said. If you can, make time to take in the history of this area. Well worth it!