Recent Reads that Inspired Solo Travel into Deep America
I love books. Reading is my stress buster, my preferred form of escapism, my nervous habit. I'm more likely to go on a book bender than a Netflix binge. They light up new places and fuel my need to go travel.
This book list spans the genres of travelogue, in-depth journalism, memoir, and self help. The books have almost nothing in common, except that I've read them in the past year and they all confirmed my need to stop everything I'm doing and muscle-power myself across the USA for a summer.
By Eleanor Davis
I've read a few graphic novels, and I've read more than a few personal travelogues, but never have I seen the two genres merge like this. Illustrator Eleanor Davis draws her way through a solo ride across the southern USA, from Arizona to her home in Athens, Georgia.
The only book on my list that is actually about bike touring, Davis' illustrated travelogue filled me in on everything from the emotional highs and lows to the nuts and bolts of bicycle travel. The solo female perspective is rare and refreshing.
READ IT TOO
By Sam Quinones
Shocking and vivid, this journalistic portrait of the opioid epidemic reminded me just how much of Deep America I haven't seen. The title is a reference to a halcyon community swimming pool in Portsmouth, Ohio, which later became ground zero for America's opioid explosion.
I haven't spent much time in the most hard-hit parts of the USA. Reading this page-turner, I was struggling to picture the Middle America Quinones describes. I'm not planning to visit a methadone clinic or to order Mexican black tar heroin by phone delivery. Just ready to get outside my own little Dreamland bubble.
READ IT TOO
By Jessica Bruder
When I first heard this book summarized somewhere in passing, I thought it was about the Millennial #vanlife trend. Intrigued, I bought it.
As it turns out, it has nothing to do with the social media influencers who convert vans into chic tiny homes. It's actually a much darker portrait of aging Baby Boomers in America who resort to van-dwelling as a low-cost alternative to retirement. The real shocker is the low-wage work these elderly nomads migrate toward at middle-of-nowhere Amazon warehouses. A chilling depiction of low-cost vandwelling, it piqued my interest in this growing American subculture—and about life on the road.
READ IT TOO
By Tara Westover
This bestselling memoir is about a different kind of mobility: social mobility. I was absolutely gripped by Westover's retelling of her Mormon extremist upbringing and how she managed to overcome it. Like Dreamland, it exposes a part of the USA that I've never seen geographically (rural Idaho) and a pocket of the population I've never met (fundamentalist Mormons).
I love reading about the places I'm visiting, especially while I'm there. In this case, Educated was my preview of Idaho. Cycling through, I'll be on the lookout for a scrapyard below a towering mountain.
READ IT TOO
By Jen Sincero
I warned you there would be self-help on this list. I listen to the audio version of this book (read aloud by Jen Sincero herself) when I need some encouragement to go for big things—and the kick in the pants to do it. She's like the female Tim Ferriss, urging women to design the life we want for ourselves, stop settling for less, and consider ourselves worthy of size XL success.
I have this book to thank for pushing me toward a cross-continental journey and a personal brand to go with it. Sincero's sweet and salty voice convinced me to quit my job, stop all the menial gigs and side hustles I'd taken on, and build my own thing. Why am I taking this risk? And why do I think I'll succeed? Because Jen Sincero told me to, and because I love myself — fiercely and without apology.
READ IT TOO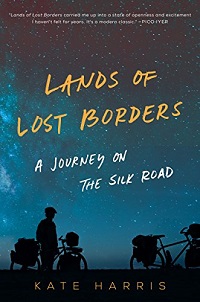 By Kate Harris
I read this last-minute on the road trip to my start point. Wow. This woman really is a badass. She and her friend (also female) undertake an expedition-style bicycle tour along the Great Silk Road — starting in Turkey, pedaling through the 'stans, and finally landing in Tibet. You'll get the nitty gritty of bike touring along with all sorts of philosophical musics from the charming Ms. Harris.
This made my own bike plans seem very tame. In fact, Kate and her adveture pal Mel first cut their teeth on a cross-America bike tour, which is only mentioned in passing in this memoir. It gives me hope that this route is just the beginning for me as well.
READ IT TOO
My Spin On It
Books have a way seeping into me and helping me make sense of the journey. These are only a few of the books that have led up to this trip. One of the most exciting part of going solo on this ride is the opportunity to get lost in literature. I'm open to suggestions for good "Deep America" reads, cycling inspiration, or even breezy escapes into fiction. Look forward to a post-trip list of everything I read on the road.