Books that fueled and enlightened my solo bike tour through Deep America
Books move me. They figuratively move me as much as bicycles literally move me. On my 75-day solo bike tour across America, I made time to read almost every day.
A handful of books inspired my ride, starting about a year before Day 1. Then, during the ride, I was very intentional about what to read. I looked for works that would offer insight and context to what I was experiencing firsthand. Voices from "Deep America" in the form of memoirs were my go-to genre. I also found some fantastic essay collections, popular political-economics, and even an in-depth history.
By Jill Lepore
It's been awhile since high school and college history classes. Like, over a decade. So my knowledge of American history was definitely rusty. I'm not much of a history vulture — I choose contemporary over historical when it comes to museums, furniture, and most other things. Luckily, this recent work by Harvard historian Jill Lepore crossed my radar. It's literary, fresh, entertaining, and even philosophical in its probing of the nation's foundational values. Nothing like a high school textbook.
This book is a time commitment, weighing in at 960 pages. Ordered chronologically, the timing worked out great. I got re-briefed on the Colonial era and Revolutionary War just as I crossed the Mississippi River and entered the side of the States where its formation happened. It added extra color to my plantation visit near Yorktown, VA.
By Sarah Smarsh
When you're riding your bicycle through rural Kansas, it's easy to wonder what it's like to live in this windswept desert of grass. It's not so easy to find out. True, I had some telling encounters with Kansans like my Warmshowers host in Toronto and the folks I met at two different county fairs. But my best inroad into the psyche of America's breadbasket was this memoir by Sarah Smarsh.
Smarsh's story is one of hardship and its patterns in rural Kansas. Teen pregnancy, domestic instability, high-risk manual labor, and substance addiction were the reality for her and her foremothers. She managed to break through these patterns, but she warns of traps that deepen in a nation where class stratification is intensifying.
By Pete Buttigieg
What's up with the Midwest? That's a question I often asked myself as I rode through Missouri and Illinois. These are areas damaged by industrial decline, and also hard-hit by the opioid epidemic. Follow-up question: is there any hope?
Pete Buttigieg has answers. A political rising star, Buttigieg is best known for his seven-year tenure as the mayor of South Bend, Indiana and for his bid for the Democratic presidential candidacy. He's remarkably young (an "old millennial" like me) and openly gay. His memoir spans his formation from Harvard student to business consultant to U.S. Navy officer. All roads led back home to South Bend, where he has taken on the city's post-industrial woes and has big ideas about how the rest of America can turn this ship around.
President material? I'm not sure. But he has my vote as memoir writer extraordinaire.
By Andrew Yang
During my ride, I shared the road with a lot of truck drivers. I even met a few. With each encounter, I'd think of Andrew Yang, who presents the truck driving trade in a fascinating and alarming way.
Like Buttigieg, Yang is an underdog in the running for the Democratic presidential nom. His "campaign book" follows a similar diagnosis-then-prescription format. If you are like Yang, you've spent some time thinking about autonomous vehicles, automation in general, and the precarious future of work. Read this book. If you, like Yang, can get behind the idea of $1,000/mo basic income (or "freedom dividend", as Yang calls it) for everyone, automatically, then you've probably already read it.
By David Sedaris
Amidst all the doom and gloom from my other reading material, I needed some comic relief. So I reached for the latest collection of essays by celebrated American humorist David Sedaris.
Sedaris's book isn't really "about" America like most others on this list. Its themes fall more along the lines of aging, vacationing, and mortality. Sedaris doesn't even live in the USA; his primary residence these days is in West Sussex, England. But after decades of book tours, he has plenty to say — hilariously as always — about certain quirks of American culture. I laughed out loud at his Fitbit obsession, his critique of the word "awesome" among other Americanisms, and his commentary on reality TV.
By Jim Gaffigan
After coming across deep-fried Twinkies for the first time in Missouri, I had to laugh. All my middle-America food experiences brought to mind one of my favorite comedians — Jim Gaffigan. To help relish the absurdities of America's foodscape, I checked out his bestseller Food: A Love Story from the digital public library.
Region by region, Gaffigan takes us on a tour of popular American cuisine. He maps the country by its most boasted-about dishes, from BBQland to Super Bowl Sundayfoodland. Prepare for riffs about kale, Hot Pockets, food courts, hot dogs, and drinking gravy. If you're bike touring in the Midwest or South and you're so fed up (literally) with America's scary-bad cuisine that all you can do is laugh and keep eating, then grab this book for dessert.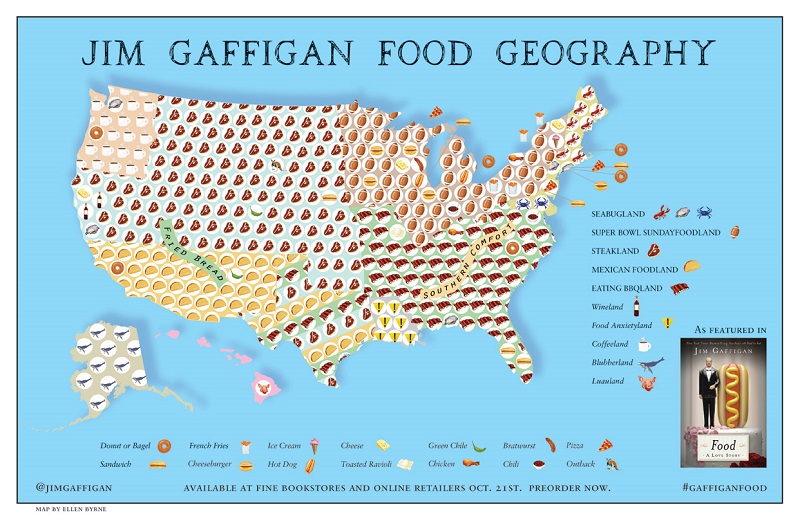 Dispatches from the Forgotten America
By Sarah Kendzior
This collection of essays was pointed out to me in the comments of my first book list, where I called for recommendations for more "Deep America" reading. It fits the genre, spot on.
In a series of articles first published in Al Jazeera in 2013, Kendzior outlines some of the biggest challenges faced by the population of Americans living outside of affluent coastal cities. She expresses trends and phenomena that I had sensed but didn't know the words for, like "post-employment economy" and "authoritarian kleptocracy." Beautifully written and argued, each essay offers a small dose of necessary outrage.
A Memoir of a Family and Culture in Crisis
By J. D. Vance
I didn't expect to experience "culture shock" on a bike tour through my own country. Then I got to the Appalachians of Eastern Kentucky. Wow. So many things I couldn't comprehend.
Once again, I found a guiding voice in the form of a bestselling memoir. J. D. Vance grew up immersed in the social dysfunction of Appalachian culture, but managed to overcome it and make his way through Yale Law School. He uses his perspective of against-the-odds success to tell the story of his roots. He illustrates themes now familiar to me from my reading and touring: a disillusioned Middle America struggling to recover from the decline of industry and coal, and highly susceptible to addiction, instability, and debt.
By Michelle Obama
"When you're First Lady," writes Michelle Obama in the preface of her stunning new memoir, "America shows itself to you in its extremes."
I was instantly drawn in. This journey on bicycle through America has been a sensing of extremes. Michelle Obama's memoir is a story of traversing the extremes. Like J. D. Vance, Sarah Smarsh, and other writers I read, she has crossed a widening divide in America. For a society in need of strong role models and proof that social mobility can and does still exist, this memoir came just in time.