In remembrance of my sister Gina and awareness-raising for COVID long-haulers
I've poured some pretty raw emotion into my blog before. This time, I'm at the keyboard with the deepest grief of loss I have ever felt in my life.
On July 27, 2020, I lost my oldest sister Gina. She had been fighting a five-month struggle with an undiagnosed virus-induced disorder — most likely ME/CFS — that turned her body against her and rendered life unlivable. She was 40 years old. Her death was sudden and shocking. Over a month has passed, and I still can't believe I'm writing this. My heart is broken.
Here's what I want my online community of bicycle lovers, adventure travelers, and outdoor enthusiasts to know about Gina (who was one of us) and the bigger picture of COVID long-haulers.

Gina was a source of light for me and so many others
I'd like to think that the best parts of me come from trying to be like Gina. She was four years older than me, which was the right amount of age difference that I could watch her and take everything I admired and try to replicate it for myself. Ever since we were kids, she has modeled independence, studiousness, adventurousness, global-mindedness, environmental responsibility, outdoorsy-ness, love, kindness, joy, and commitment to family and community.
I was lucky enough to have her built-in as a sister, but she created that kind of bond with so many others she met, everywhere she went. When she died, we saw a huge outpouring of online tributes and beautiful stories of the way she touched people's lives. I started collecting these into a tribute book, which we shared at her memorial service. We made an online memorial site where you can find that book, her obituary, a timeline of her life, and other tributes and mementos.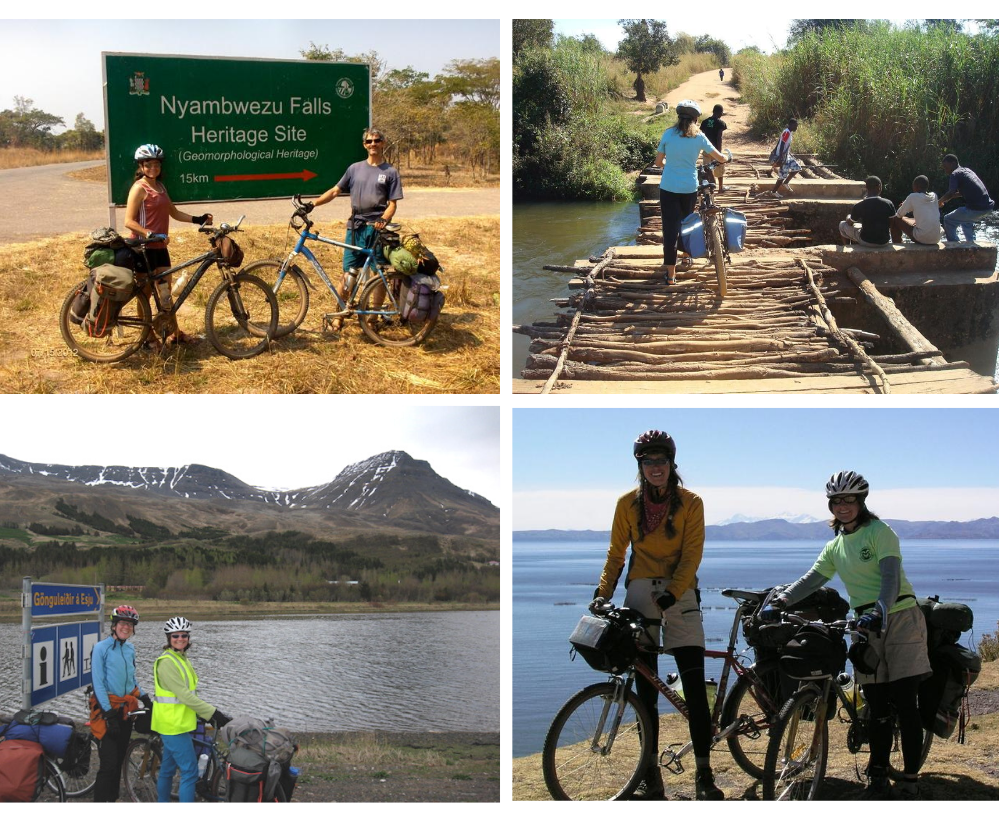 Gina was an avid lover of bicycle travel
Before I rode the TransAmerica Bike Route last summer, I hosted Warmshowers guests to learn from them and enjoy their company. I talked Gina and her family into hosting Warmshowers guests at their home in Yakima, WA as well. The profile she wrote last year sums up her own love for bike travel:
"We are a family of 3, Gina and Scott and our son Travis, age 4. We (Scott and Gina, not Travis) have done several bike tours together in Tanzania, Iceland and Vancouver Island, and Gina has also bike toured around Lake Titicaca in Bolivia and Peru. From 2011-2013 we served in the Peace Corps in Zambia and did plenty of bike travel there as well! We always appreciate the hospitality that people have shown us worldwide and want to give back."

Gina was one of my biggest bike tour cheerleaders
Here's a snippet from the speech I wrote for the memorial service:
"Gina had done some travel by bicycle in Iceland and Peru, so she was one of the first people I told about the plan I was hatching to ride my bicycle across the country last summer. She shared my vision right away, pointing out that she and Travis would be road-tripping home from a spring season in Denver, and I could join them to reach my starting point in Oregon. She booked a campsite on the Oregon coast for June 14 and that's what made my plan real. It became a wondrous 10-day road trip full of camping, national park visits, hikes, swimming, and scootering. On day 1 of my ride, Gina gifted me a neon yellow safety vest. She rode the first 10 miles with me. She was one of my biggest cheerleaders for the rest of the journey."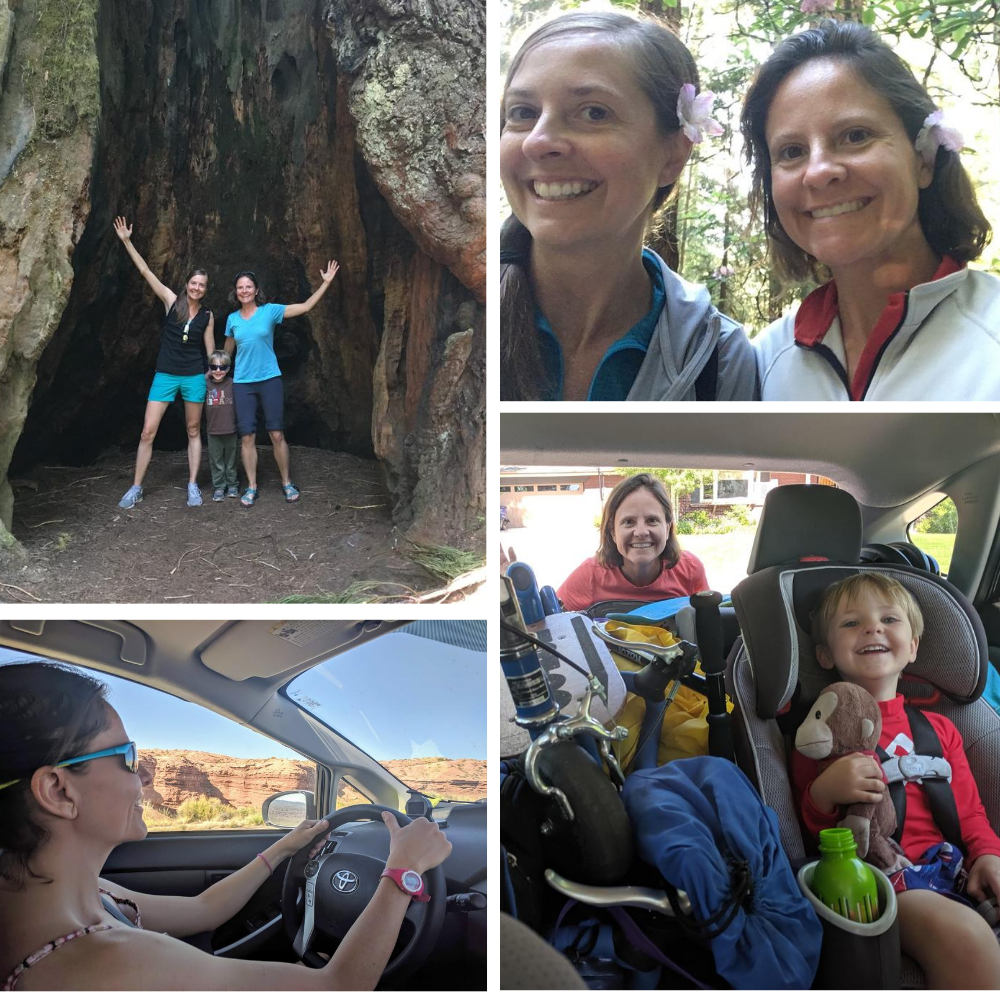 Gina died a pandemic-related death
We'll be hearing more about "long-haulers" as the pandemic marches on. This excellent Atlantic article and Buzzfeed article really capture what Gina was going through since March, both with her personal health and trying to advocate for herself within our health system.
Her chronic M.E. symptoms were likely virus-induced. Was it COVID? We may never know, but it's likely. She tested negative twice, which was frustrating. Her first test wasn't until over two weeks after her first symptoms because tests were only available for people with all the known symptoms back in April. So those results are still uncertain. I do believe, though, that I wouldn't be writing this post in a non-pandemic world.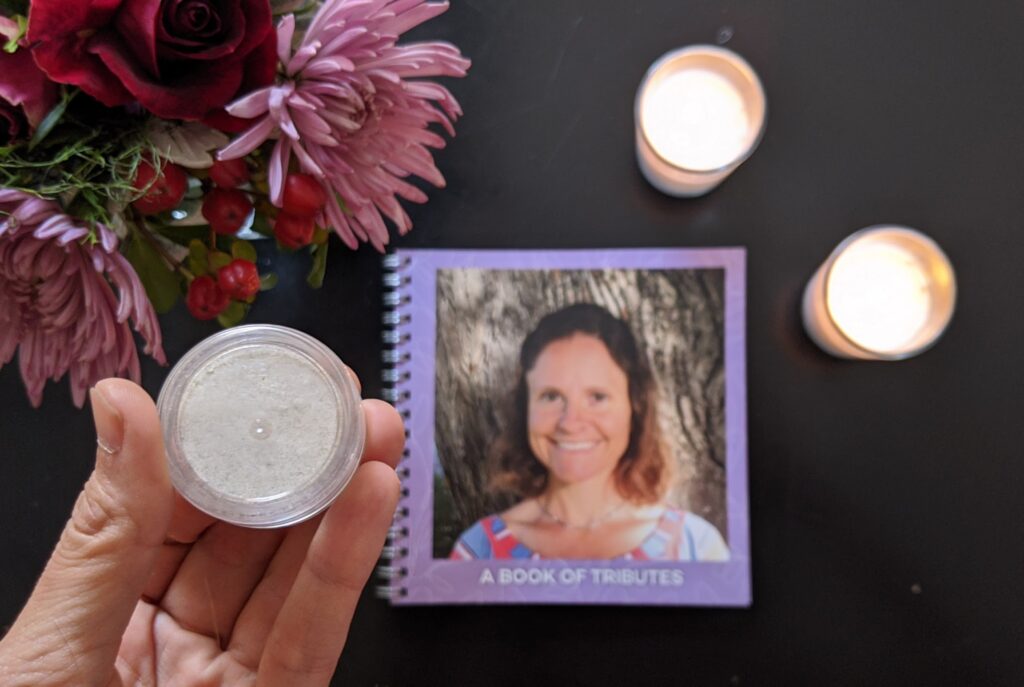 I'll be carrying Gina's ashes with me on my ride
I had been planning my Great Divide Colorado bikepacking trip even before this happened. Then the world turned upside-down. I've learned that my grieving style (for now) is functional and interpersonal. In the weeks that followed, I poured myself into organizing the memorial service and connecting with dozens and dozens of people in our shared loss.
It seemed selfish at first to keep the bikepacking trip on the calendar, but I've turned to my bike for solace in the past. I'm a big believer in what I call "pedal therapy", and I know cycling will always help me cope. Writing has also been therapeutic for me.
Now, this upcoming trip has taken on a greater meaning. I'm riding in remembrance of Gina and to share her story. I'll be carrying a tiny jar of her ashes with me. On her birthday, September 6th, I'll find a nice spot on the route in the Colorado Rocky Mountains she so loved and scatter her ashes there.
View this post on Instagram
How to help? Donate, believe symptoms, and get outside.
In her months of debilitation, Gina spent a lot of time researching M.E. and truly believed more attention to this disease was needed. She supported the Open Medicine Foundation for its dedicated research into this complex and life-altering illness.
As I've researched M.E. and post-COVID syndrome for myself, one theme keeps recurring in so many stories like Gina's. Our medical system doesn't give this complex disorder the credibility or research it needs. Medical professionals will dismiss serious chronic symptoms as mental health issues. The message here is to BELIEVE the symptoms that people (especially women and minorities) are reporting. The long-term health of COVID survivors — and the recovery of our whole system — depend on it.
In one of her final emails to me, Gina wrote, "All I can say is enjoy your health while you have it—things can change in the blink of an eye!" If you want to join me in honoring Gina's spirit, do what she would do. Go for a walk, run, or hike. Do some yoga. Plan a camping trip. Introduce kids to the outdoors. Ride a bike.