The 12 worst things that could happen on a solo cross-America bike tour
"Wow, that takes a lot of guts." I usually get a response along those lines when I describe the 4,200+ mile route across America I'm planning to cycle this summer, all by my lonesome. They sense as strongly as I do that a lot could go wrong.
I'm not a particularly brave woman. But when it comes to travel risks, I'm willing to strip each one down weigh them against the rewards on the worth-it scale. So here they are — my list of risks, in no particular order.
My bike could break down
An occasional flat tire is bound to happen. I've fixed at least a dozen in my road biking career, but usually indoors or with the help of whoever is around me on the ride. When it's raining and I'm the side of a rural highway on my own, that's when shit gets real.
Even if I can finesse my tire levers to change a flat in no time, there's also broken spokes, worn-out chains, loose breaks, and crunchy gears to worry about. I'm doing my best to get to know my bike Blucifer and hone my roadside repair skills before I go.
I could get in a crash
This one's scary. Everyone, it seems, who has spent any amount of time on a bike has a crash story and battle scars to show for it (myself included). Anxiety about this one drove me to research bicycle fatality stats and try to quantify the actual probability of death on the road.
The good news is that my route is designed to avoid major U.S. cities, selecting for smaller towns and rural highways that are safer to share with cars. The bad news is that there has been a slight uptick in bicycle fatalities over the past few years, suspiciously correlated to the uptick in distracted driving. Put down your phones, drivers. Share the road. K thanks.
I could get robbed
People acting nefariously has long been on the top of my list of travel hazards — especially while traveling solo in foreign countries. Like all other risks on this list, though, if I let this one get to me, then I'd never even venture out of my house.
I'll have an older low-end road bike, some outdoor gear, a few electronics, and a wallet with me. If anyone decides to steal any combination of the above, then a) the joke's on them because I don't have the newest top-shelf version of anything, and b) they better do it behind my back. I also don't have top-shelf health insurance to cover therapy after any sort of violent encounter.
I could get lonely
I'm doing this trip alone. The reasons, pros, and cons of that decision are spelled out here, but suffice it to say that I've dealt with the loneliness monster of solo travel in the past, and I've learned how to tame it.
My defense strategy against loneliness: the company of other bike travelers on the same route, hosts through Warmshowers and Airbnb, the regulars at local watering holes, and maybe a few phone calls home just to say "hi." Or "help!"
I could get bored
Closely related to the loneliness monster, boredom can be a real beast on a solo bike tour. My goal is a pace of about 50 miles per day, which would shake out to an average of about five hours a day, just peddling on a road on my bike. What will I do with all that headspace? Then, once I'm off the bike, I'll set up camp and try to clean myself up. Then what?
My defense strategy against boredom: a stockpile of podcasts, books, and a journal. Or explore the town or the campsite surroundings on foot.
I could get stuck in bad weather
On past road rides, I've been rained on, pushed around by gusty wind, hailed on, and beaten down by the heat of the sun. And that was without hauling 30+ lbs of baggage with me. On this ride, I'll have to worry about keeping myself and my stuff safe from the elements so that I'm not pitching a wet tent or crawling into a soggy sleeping bag.
Bad weather will happen. I'll feel extreme discomfort. I'll yearn for my steamy bathtub in my climate-controlled house. But then it will pass, and I'll appreciate the campfires and clear days all the more.
My butt could start hurting
One of the biggest rebuttals to my plan is concern for my nether parts. Comments from friends: "I heard bike touring involves a lot of chafing down there." "I'd love to do something like that, but I don't think my crotch would be up for it." I even received a small bucket of chamois cream as a bon voyage gift.
I appreciate the concern. Luckily, I've got some anatomical advantages that help with this issue. My thigh bone structure granted me a big gap for plenty of seat clearance. Also, my size XS butt has adapted to bicycle seats and hard surfaces with permanent calluses. I'll still be using padded shorts and skin cream to help with saddle soreness.
I could spend too much time online
At first, I wasn't going to post online about this trip in any organized way. I fantasized about a digital detox, where I would only use my phone for GPS and let the online world fall away. When your livelihood requires full-time screen-staring, the best vacation is the offline kind.
I won't be hauling a laptop in my panniers or posting anything longform during the ride, but I will keep this site maintained with mobile posts, mostly via Instagram and Strava. The goal is to do a lot more posting than scrolling.
I could start smelling bad
This is my vanity speaking. I'm worried I'll only have access to showers every four or five days, and that things will get … ripe. How will I meet people and make new friends if I smell like a men's locker room? How will I look cute in photos if my hair is plastered down with grease? The stank struggle is real.
I could run out of time
At an average pace of 50 miles per day, this route takes most riders around three months to complete. But what if I'm sub-average? What if every other thing on this list happens, setting me way behind schedule? Or maybe I'll have a slower pace, or stop and stay awhile here and there?  I'm giving myself an extra two weeks for some leeway. Equally concerning: what if something busts my budget and I run out of money? Then it's Game Over, wherever I am. Which leads to the next risk …
I could quit before I finish
The original plan was to do just the first half of the TransAmerica Bicycle Trail, which would land me close to home in Denver, Colorado. Then, I was overcome with some kind of Manifest Destiny mandate. Cross-continent or bust. As long as I'm pausing life for a season and buying all the gear, I might as well make it a coast-to-coast adventure.
Since any of these hazards could happen at any degree of severity, I could be forced to stop the ride at any point. Then on to Mexico for the rest of the summer, since my house will be rented out. Hmm. Plan B is actually sounding pretty good.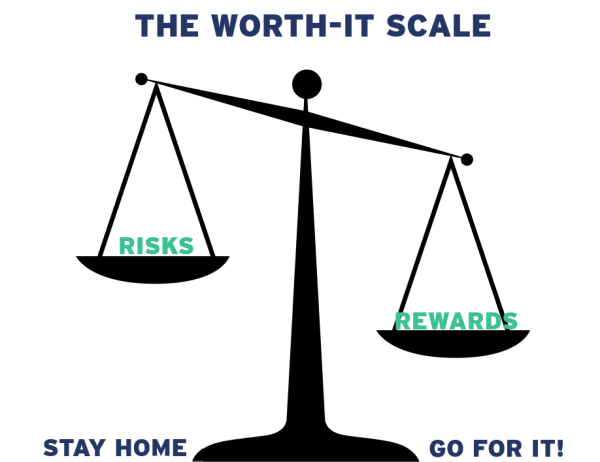 My Spin On It
So there you have it. My doubts and fears and anxieties spilled out on the page. And the list isn't complete. New ones come up every day. I could get sick, injured, lost, murdered, or be on a bicycle alone in the middle of nowhere during the apocalypse. I could get detoured by wildfires or bitten by stray dogs. I could come home broke and struggle for months to find gainful income.  
However, stacked up against all the good reasons why I'm doing this ride, I can't let the doubts hold me back.