On day five of this three-month bike tour, I got robbed. And treated with great kindness.
I knew things could go wrong on this trip, and the mishaps have already begun. My panniers were stolen from outside my tent in Eugene, Oregon. Luckily only a few of my things were inside them. Here's what happened.
Backyard camping in the small city of Eugene
I arranged a Warmshowers host for my night in Eugene, since it's an urban area. A girl named Maggie answered my request and invited me to stay at a college student house, where she and six roommates had space in the backyard to camp.
Sure, I replied. I'm in it for the laundry and the shower, and it sounds like a fun group to meet.
I rolled into Eugene at about 3pm yesterday. As I cycled throug the University of Oregon campus, it felt like a college town. Along the riverside bikeway, though, there was a noticeable amount of homelessness and vagrants.
When I pulled up to the address, Maggie greeted me with a huge smile. I was her first guest! I ran some errands, showered, washed my clothes, and pitched my tent outside. Then I headed into the kitchen to hang out with my hosts.
We chatted for a couple hours about all sorts of things — bike travel, Mexico, books, politics, wisdom teeth, job automation, and Tinder. We compared the outdoor scenes of Oregon and Colorado. Dusk fell, and we marveled at the late light this far north on the day before solstice.
The backyard intruder strikes
Meanwhile, right outside, someone found my tent in the backyard and grabbed the panniers, which were mostly empty and folded in the vestibule between the tent and the rain fly.
I headed back into my tent around 9:30 pm and noticed as I brushed my teeth that the panniers were missing. Did someone move them? I went back in the house to ask around.
It finally sunk in that a backyard intruder had stolen them. We were all stunned. I took inventory of what was in them while Maggie's roommate called the police to file a report. An officer finally came around midnight to get the story and look around. I listed my lost gear and estimated it's value around $400.
Ortlieb Bike Packer Plus panniers
All my cookware, stove, and fuel
My very personalized first aid kit
My bike tool box
My hosts were super responders
This group of roommates sprang to action. They started putting the word out on Facebook. Here's the post they shared to all the Eugene bicycle groups they could find: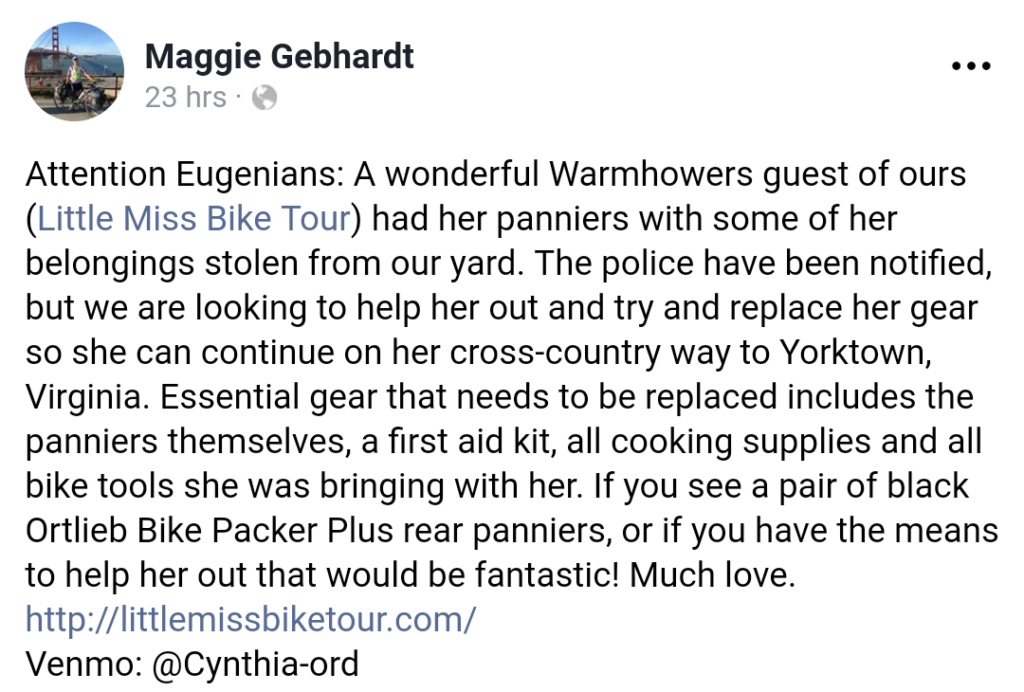 I spent all day today replacing things
I can't go very far without panniers, so today's mission became a scavenger hunt by bicycle all over Eugene to replace what was taken. REI was the first stop, where I found new panniers that are similar but not as good as my originals. I also got new cookware. Next stop was the dollar store for odds and ends. Then I found a bike shop to rebuild my tool kit. $380 later, I needed a beer and a big slice of pizza.
Things are just things, and people are mostly good
Getting robbed is a gutpunch, no matter how petty it is. Rattled, I started having all these ugly thoughts:
"I feel like a moving target."
"Doing this alone is just a bad idea."
"Do I have to keep everything under lock and key or within eyeshot at all times from now on?"
"I can't afford any more mishaps like this."
It took some pedaling it out today to summon my higher, less fearful self. Things are just things, and I had great positive experiences with Warmshowers hosts and bike shop mechanics here in Eugene. This was just a bit of bad luck in a city known for petty theft and drug abuse. I wouldn't have done anything differently, except to secure my belongings better. At least they didn't take Blucifer, who was parked indoors. Thank the lucky stars for that!