Ryan just finished his own adventure on the Great Divide and answered all my questions
What does a bike traveler like myself do during a global pandemic that severely limits travel? I've been finding other bike travelers here in my home state of Colorado and sharing stories. Luckily, this is the kind of state that breeds serious adventure travelers. Take Ryan Van Duzer, for example.
Ryan has been building his adventure-centric YouTube channel for over twelve years now. After trail running, trekking, and mostly pedaling all over the world, he set his sights this past summer on the Great Divide Mountain Bike Route (GDMBR). Coincidentally, I had been plotting my own Ramble Ride to the Great Divide in Colorado. As I studied the map, my questions started to pile up.
So, I slid into Ryan's Instagram DM's — as one does — and asked if I could interview him. From the seat of his bike somewhere in Montana, he said yes. Although he lives just 30 miles away in Boulder, the bike ride between here and there isn't very pretty. Plus it's 2020, so I set up a Zoom chat once he was done with his GDMBR ride. Here are his answers to my most pressing questions.
View this post on Instagram
Let's get some numbers. What was your total mileage and number of days on the trail?
Let's see. 26 days of riding 165 hours of riding, 1743 miles (that's 2800 kilometers), 103,000 feet of elevation gain (that's 31,000 meters). So those are my big numbers.
And you were tracking all of this on a bike computer?
Yes, the Wahoo Elemnt Roam. I got it in January so I used it in Baja. Yeah, it's awesome, I've never had a bike computer before, it's so cool. It tells you exactly where to go.
What aspect of the bikepacking trip really surprised you or blew you out of the water, like in a good way?
The GDMBT takes you to some really beautiful areas. It takes you to some pretty remote sections, and every day, you're just like, "Wow! It looks so much different from yesterday," even though you're only 70 miles away from where you were yesterday.
You know, Colorado is stunning, because you're just going up and down the whole time, over mountain passes and small towns.
I would say the small towns really were probably the best part. The small towns and the people along the way. I've never done a route that's this established. Usually, when I do my big bike tours I'm just making up the route as I go, and so the people around me aren't used to seeing cyclists. People who live on this route, they know. They see, like, thousands of people every year and they come out specifically to help people. So I learned a lot about the "trail angels", which is something I had only heard of in the through-hiking world.
The Great Divide provides stunning views everyday! You just gotta ride your ass off to see them;) @RidePriority @CarbonDrive #duzerduzthedivide pic.twitter.com/ufT35VWTQy

— Ryan Van Duzer (@duzer) August 8, 2020
Is there a specific spot or trail angel that comes to mind?
Yeah, there's a spot in Montana outside of Helena called the Lost Llama Ranch, and this couple is pretty well-known along the trail. They invite cyclists to come and stay, they have a teepee and some cabins, and they make food, and they have water and drinks, and everything is free. They don't take money, it's all free. They are special people for sure.
On the flipside of that, we know it's not all trail angels and pixie dust.
It is mostly though!
Was there any hardship? Or what was the most disappointing, underwhelming, or just really tough part of the trip?
It was a lot easier than I thought it was going to be. I had always heard of this as "the longest offroad route in the world" and the toughest, and it's not at all. It's very smooth dirt roads, for the most part. I had a mountain bike with front suspension, and I hardly needed the suspension. The actual riding wasn't as fun as I was hoping. I was thinking it would be more like mountain biking, which I love. This was a lot of dirt roads. They should rename this the Great Divide Gravel Bike Route, not Mountain Bike Route.
As far as disappointment, there was nothing really disappointing. It was beautiful.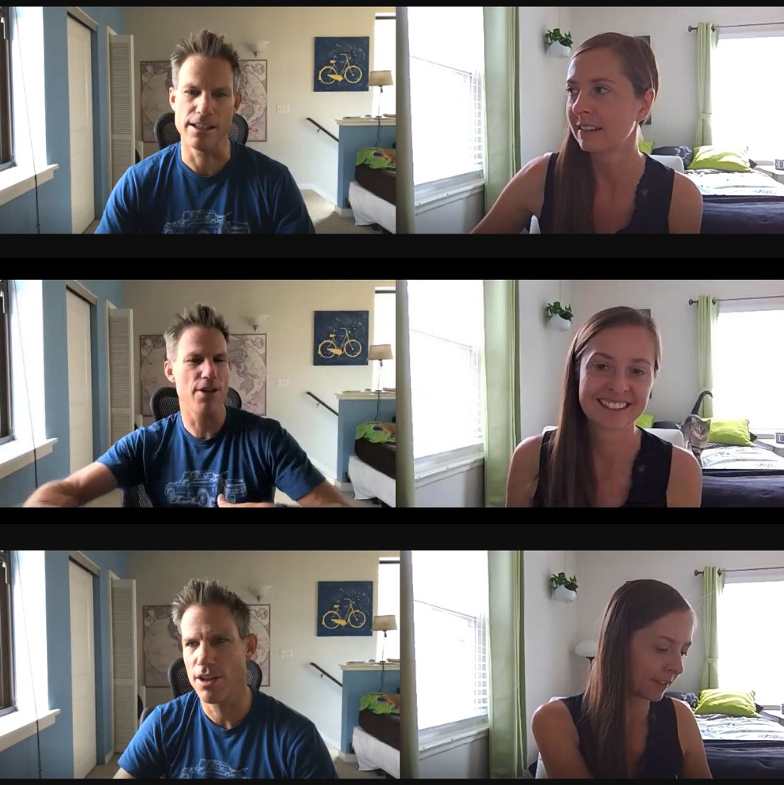 Did you have joiners on your trip? What percent did you do solo?
Well, I thought I would be doing it alone, really. Then about 24 hours before I left, my buddy John texted me and asked if he could join. He ended up coming for like two weeks, and he brought his dog Mira. His dog is the coolest dog in the world. I met them in Baja in January, and we've stayed in touch ever since.
Another buddy came for like 10 days, and another friend from Boulder came for a few days, so I only rode for six days alone. And it was a lot shorter trip than I thought it would be. I mean, I didn't do 700 miles of New Mexico.
So this is probably your first bike trip mid-pandemic. How did that change the experience?
Flying to Whitefish, with my bike, you know, the airports are way different these days. It's a risk. You're going through an airport with thousands of people from all over the world. You don't know where they've been or if they're being safe.
Once you're out there, you're really in the middle of nowhere for most of the time, especially in Montana and Wyoming. So yeah, there were a couple of places that were closed, but most things were open. It was easy to resupply.
How did the pandemic affect your routing?
So, no Americans allowed in Canada. Originally I was going to ride the whole thing, but I couldn't get to Canada, so that knocks out almost 300 miles. So I flew to Whitefish and got a ride to the very northern border.
Then I couldn't get into New Mexico either. I mean, I could have been a dick and gone into New Mexico, but they're pretty serious about it. They're requesting all travelers to quarantine for 14 days. Would anybody have seen me or caught me? No. There's no COVID police. I easily could have done it. I just don't want to be that guy that completely disregards their request.
Do you think you'll go back and do the portions that you missed at some point?
Maybe. There are so many great bike tours out there. Some people are really dead-set on finishing something. I had a great experience on the Great Divide, and maybe I'll go back to New Mexico and maybe I won't. I love New Mexico, but there are a lot of great bikepacking routes in New Mexico that are not the Great Divide.
Let's talk about gear. Is there any piece of gear you wish you had but didn't?
No, I mean I've done so many tours now, I think this was the perfect setup. It was light, and it had everything I needed.
Is there any gear you had but didn't need?
No. I mean, I wore one shirt the whole time, one pair of shorts. It's pretty basic.
What was your favorite piece of gear that you really bonded with on this trip?
I really like my tent. It's kind of a new tent. It's the Big Agnes Fly Creek bikepacking-specific tent. It fits right on your handlebars, with short poles that fold down really small, so it's made to fit on handlebars. It's easy to put up, and take down. It's so easy. And it weighs, like, two pounds.
Alright, to wrap up, what's your best piece of advice for me as I head out on the Colorado segment of the Great Divide?
It's really easy to be overwhelmed by a bike tour. The mileage, and the length, and the resupply, and the gear, and the weather — it's all scary as hell. But once you get to wherever you're going and you ride those first few miles, it all makes sense.
You're like "Oh, this isn't as scary as I thought. All I have to do every day is wake up and ride my bike. That's all I have to do." And when you break it down to something as simple as that, it makes it a lot more manageable.
You're always going to be fine. You might get rained on, and there might be headwinds all day, but you'll be fine because nothing lasts forever. There will also be days that are downhill and tailwinds.
Watch Ryan Van Duzer's Great Divide videos on YouTube
See Ryan's awesome videos with all sorts of drone-shot footage, beautifully edited and produced to leave you wondering how he does it from a bike saddle and a tent.
Ryan's YouTube Channel
Ryan on Instagram
Ryan's website