Four facts about the bicycle that will get me from coast to coast
Most people tour on a touring bicycle. It's similar to a road bike, but has a few features to help it carry more weight and cover longer distances. Touring bike frames are built ready for racks and heavier loads, and their lowest "granny gears" are lower than road bikes to help climb hills while carrying weight. Also, touring bikes have a more relaxed and upright riding position compared to the forward-bent speed stance of a road bike.
I don't have a touring bike. Rather than buy a pricey new bike for this TransAmerica ride, I adapted my longtime everyday bike, Blucifer. Here's why I think it'll work out for the long-haul.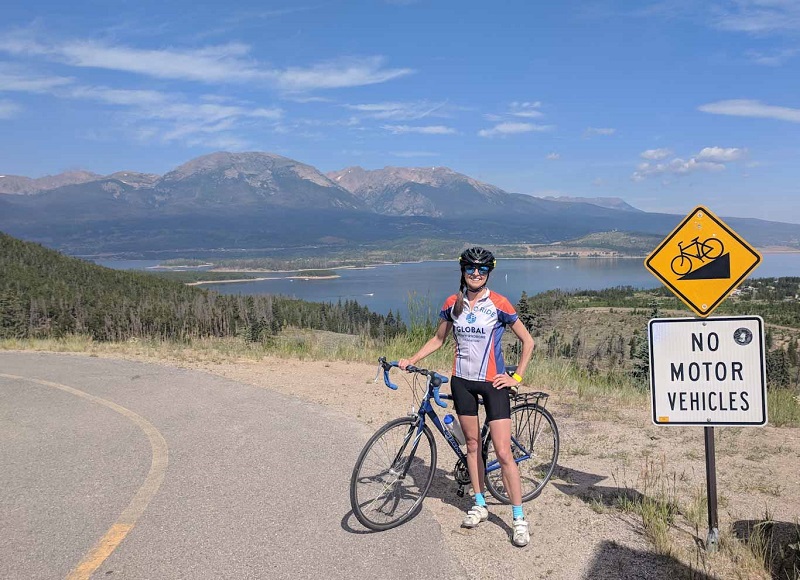 Blucifer is just a low-end road bike
Blucifer is a beginner-level road bicycle. It's a Giant OCR-3. When it was new, it retailed for about $650. I bought it on Craigslist in 2014 from a woman who had hoped to get into road biking with her husband, but then she got pregnant with twins after only two or three rides. She sold me the bike and the dreams — in like-new condition — for only $325.
The frame is aluminum and it's a compact women's model. I'm a compact woman, so it fits. I loved the royal blue coloring. I took it on a test ride, and a new(ish) road bike felt so snappy and light. I was smitten.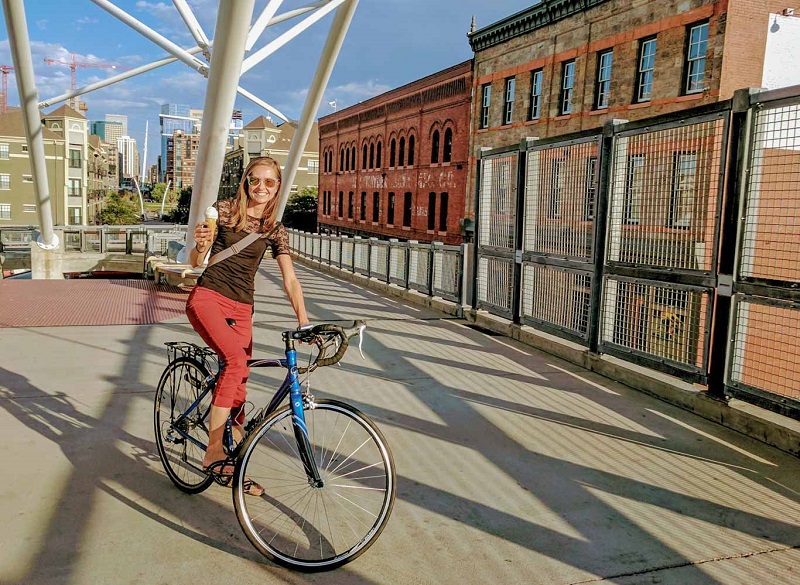 Blucifer was my everything bike for years
After that, I sold my old beater from the 90s and Blucifer became my everything bike. I added a rack at a co-op in Boulder and got a strong U-bar lock so I could park him anywhere in Denver. Bike commuting kept me sane as Denver's worsening traffic and parking situation made my car feel like a trap. I'd take Blucifer on the lightrail to work, then ride 12 miles home in the evenings. That ride was usually the highlight of the workday.
I started testing Blucifer on road rides outside the city. My favorite long ride became Lookout Mountain in Golden, CO. Pedaling uphill amongst other lycra-wearing cyclists, I felt like I'd made it to the roadie big leagues. I signed up for organized road rides like the Courage Classic, the Denver Century Ride, and a van-supported cross-Colorado ride.
I've even tested Blucifer on a few gravel rides, where we found his limits. Last summer, I finally upgraded to a higher-end road bike, and I've been eyeing a gravel bike to complete the fleet. If Blucifer survives this cross-country tour, he'll retire to casual commuter bike once again.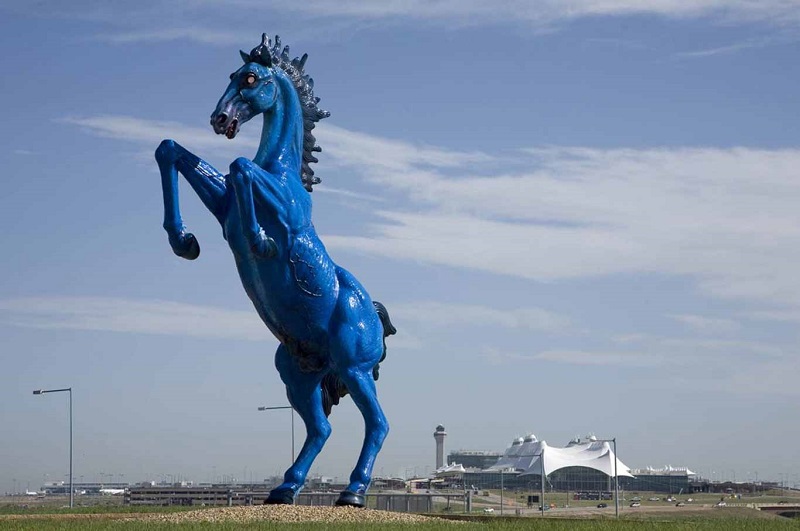 Blucifer is named after a Denver icon
How did Blucifer get his name? Well, I stole it from one of Denver's most notorious sculptures. At the Denver airport, visitors are greeted by a 32-foot mustang statue bucking wildly into the air. He's as deep blue as the Colorado flag, and at night, his eyes glow a demonic red. This earned him the nickname of "Blucifer" — along with the harrowing fact that the artist died while sculpting it when a piece of the statue swung loose and struck him.
My bike is not a murderous fiberglass mustang. He's a friendly aluminum steed. But they're the same color, they're both Denver locals, and when my bike's rear light twinkles red in the darkness, I can't help but draw the comparison.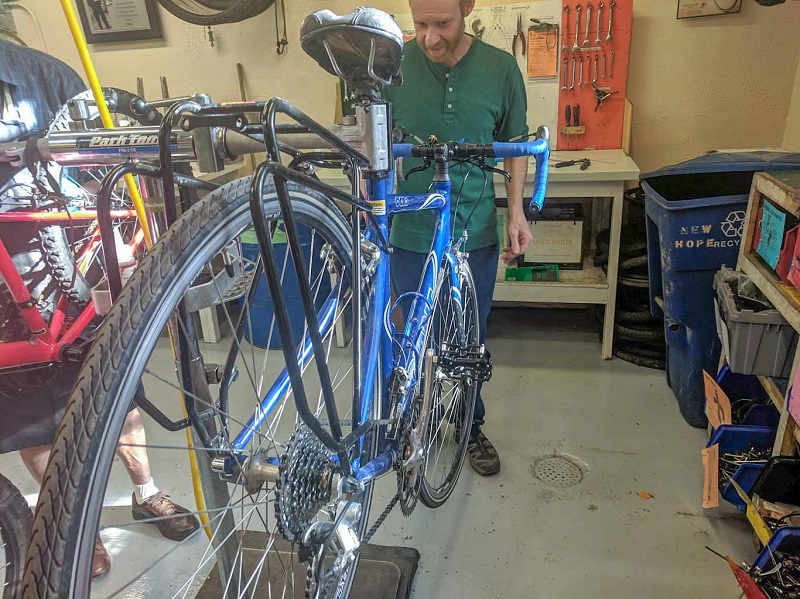 Blucifer has converted into a touring bike
Look, I'm no bike mechanic. I'm not here to talk parts and specs to the three people who might care. I'm here to say that even a non-mechanic like me can learn the basics and find help fixing a bike to fit her needs.
I'm indebted to Bikes Together, a great little bike co-op in Denver whose non-profit mission is simply to get more people on bikes. Their fix-your-bike open workshop is where a lot of my learning has happened. I'm even more indebted to my amazing boyfriend David, a volunteer bike mechanic and world traveler on bicycle. He has put in countless hours consulting, shopping for parts, and getting his medical gloves dirty on Blucifer.
At this point, only a skeleton of the original Blucifer remains. Everything but the frame, handlebar, wheels, and seat has been replaced. This is as close as we can get him to a real touring bike.
Below is a list of new and upgraded parts, with links to their source where possible.