I took a three-day break from the route in my hometown of Denver, Colorado. Here's why I recommend a mid-trip intermission.
Denver, Colorado isn't quite halfway along the TransAmerica Route. It's not even on the route, which is designed to avoid major cities. The Mile City has a lot to offer road-weary cyclists, though — especially for a native Denverite like me.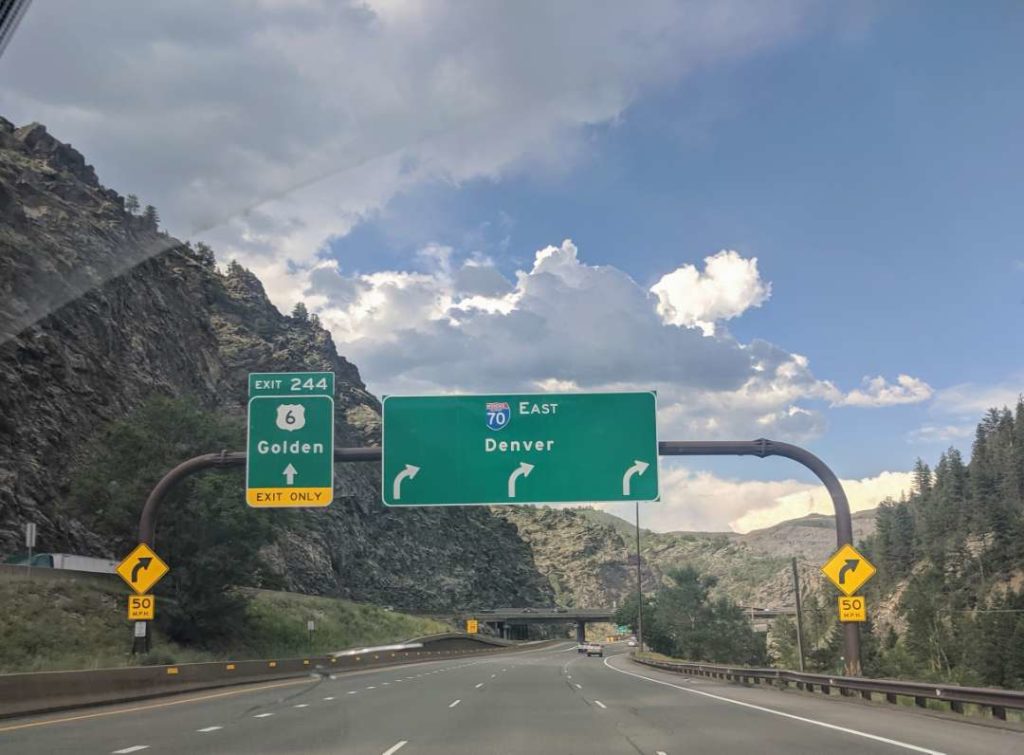 I had debated whether or not to go off-route and spend a few days in my hometown. What if I lost momentum, broke my daily rhythm, or even got tempted to just skip the second half?
As it turned out, a three-day urban hiatus was exactly what I needed. Whether it's in Denver, CO, the official route midpoint of Pueblo, CO, or any other city-ish locale, there's a lot to be gained from a few days off.
View this post on Instagram
Treat Your Bike
On my first day off, I decided to treat myself by treating my bike Blucifer to some good maintenance. Blucifer had gotten pretty dirty after 1,900 miles, so my boyfriend and I took him to the car wash and pressure-hosed him down, focusing on the drive train.
Then, we made our way to the bike co-op. With the bike on the stand, we tightened all the bolts and oiled all the moving parts. One goal was to chase down a creaking noise I'd started hearing, but the creak remains. I think it's just Blucifer groaning under the weight of my load. I'm sure he appreciates the break and the "spa treatment."
View this post on Instagram
Reassess Your Gear
Colorado is an inflection point on the TransAmerica Trail in a few ways. Here, the scenery changes from mountainous highlands to flat prairie (or vice versa for westbounders). The weather changes along with the altitude. It's a good place to reasses everything you've packed and decide what will serve you for the changes ahead.
Since I'm headed out of the altitude and the chilly nights, I ditched some insulation. I left my down jacket behind, trading it for an extra tee-shirt and tank top for the heat to come.
In a cyclist spin on the Marie Kondo method, I took each item in my hands to feel its heft and see if it struck a sense of true necessity. If not, I thanked it for its service and abandoned it. I also took advantage of a city setting to hunt down a few specifics — like industrial-strength velcro to attach my new speaker to my frame. Necessity, right?
View this post on Instagram
Reunite With Friends and Family
Colorado is a good place to plan a rendezvous with friends or family who miss you too much to wait until your ride is over. In my case, most people I know and love are in Denver, so they didn't have to do any traveling to see me. Other cyclists I've met, however, have mentioned Breckenridge or Pueblo as the setting for a quick reunion.
If nobody is planning their summer vacationing around your bike tour, don't worry. Both Denver and Pueblo have a good amount of Warmshowers hosts who would be delighted to adopt you for a few days.
View this post on Instagram
Have Summer Fun Out of the Saddle
Don't forget what summer is about. It's about enjoying the warm weather to do lots of kinds of fun things outside — not just riding bikes. If you take a few days off, you can pick a favorite summer pasttime and plan a full day of it. Go to an outdoor concert or music festival. Find a water park or county fair. Try something new, like river rafting, stand-up paddleboard, or running a race.
For me, it's not really summer until I can hike a summit in Colorado. On the second day of my break, I woke up at 3am and  headed to Rocky Mountain National Park. I took on one of the most famous and formidable of the "fourteeners" — Long's Peak. The next day, my legs were more sore from that than any day of cycle touring. So much for rest.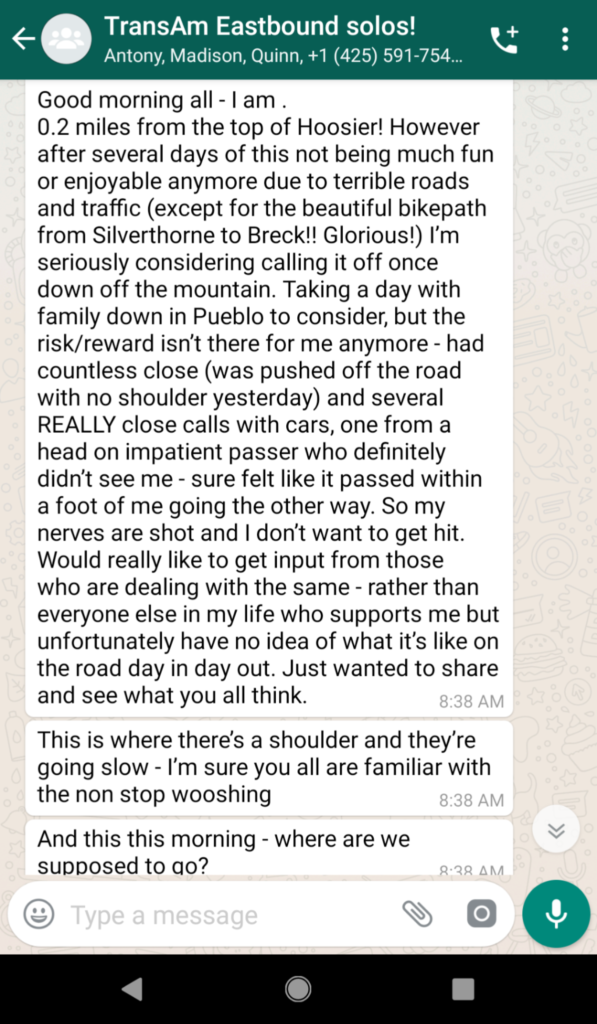 Repair Broken Morale
Colorado and its surrounding two states on the route — Wyoming and Kansas — have some of the most morale-testing stretches of the trip. You'll be up against high winds, narrow shoulders, intense heat, and big mean vehicles.
It's enough to make some TransAm riders want to call it quits.
I started a WhatsApp chat for any TransAm eastbounders I came across, as a way to stay connected. In Colorado, a fellow rider posted the message above. "The risk / reward isn't there for me anymore," he wrote.
A halfway hiatus is a chance to gain some perspective on how far you've come and what your motives are. Reconnect with people, search your soul, and hopefully you'll find the gusto to keep going. You're already halfway there!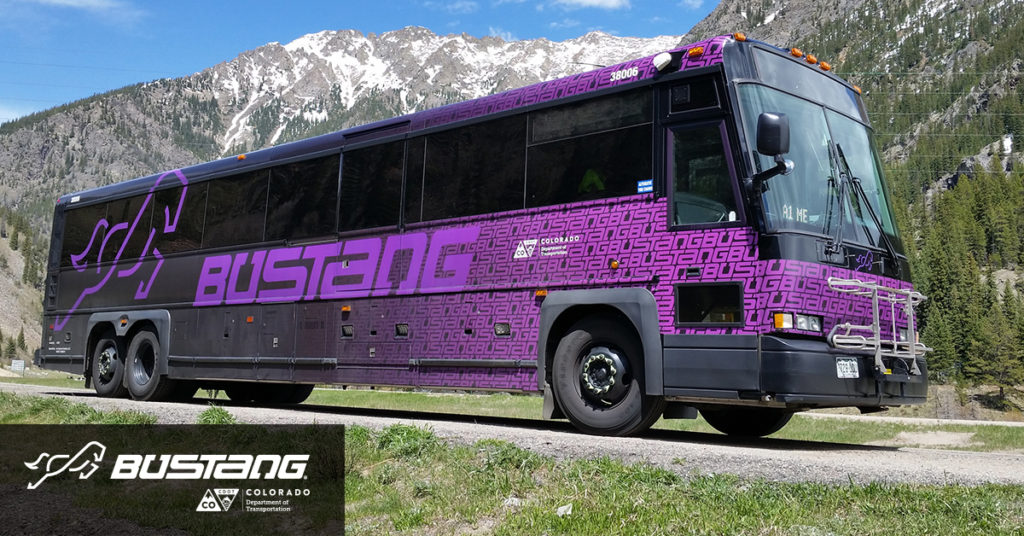 Getting to Denver from the TransAm Route
If you want to take time off in Denver, catch the Bustang from Frisco, Colorado. It's an intercity bus that runs three times a day. You can stow your bike underneath without boxing it for no extra charge. It drops off and picks up in Union Station in Downtown Denver.