A complete list of the clothing I'm packing
Am I doing this right? This is my first long-distance bike tour, so I'm perseverating over each item. Here's the challenge: be prepared for all kinds of weather, don't plan on regular access to laundry, and go for a mix of activewear and street clothes, all while keeping the load as lightweight as possible. Bonus points for style.
As I "practice packed" the items that made the final cut, I took photos of what I'm cramming into my saddlebags. Let's call this the "before" list — it will need a lot of fine-tuning along the way. I think the wardrobe is looking pretty good so far, but time will tell if it can stand up to the road-test (and the online commentary).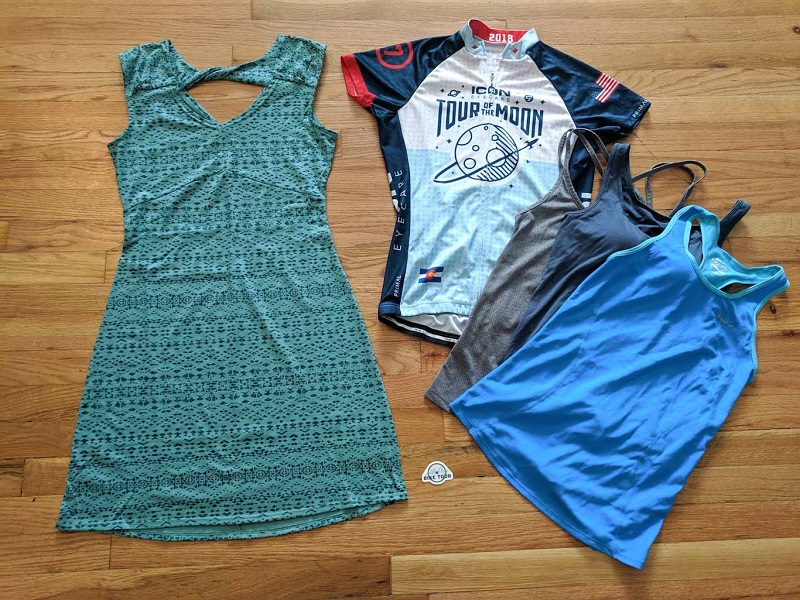 Shirts and tops
For shirts, I'm going mostly-civilian with just one cycling jersey, plus one fashion item:
Marmot Annabell Dress

in "Teal Tide Sunfall". Lightweight, packable, on clearance sale. Good for going out after a day in the saddle.

Tour of the Moon

jersey. This is a souvenir from an event ride I did with my dad last summer through Colorado National Monument. Back pockets appreciated.

Three lightweight athletic tanks. Yes, that blue Uniqlo one has a shelf-bra.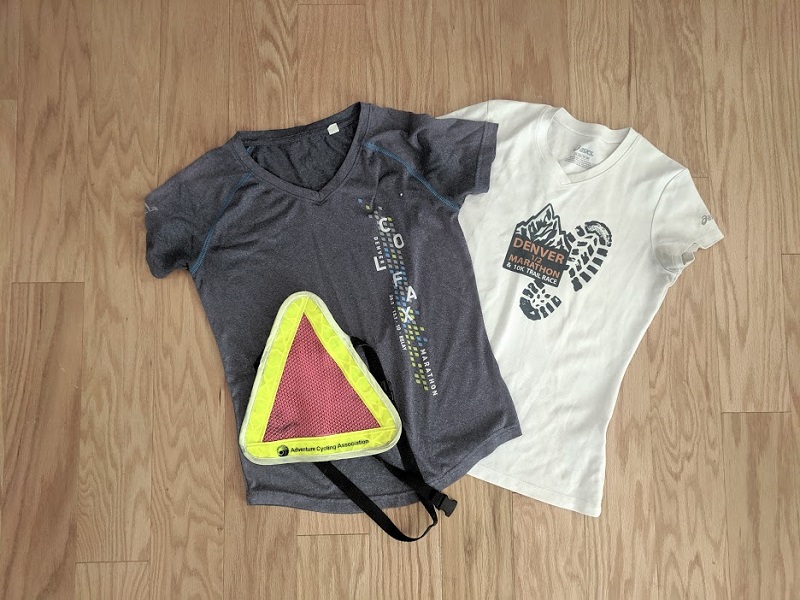 POST-RIDE UPDATE: Midway through the tour, I added two extra tee shirts to the mix. I found that my running shirts from past races worked great, as they're synthetic and quick-drying. Added bonus: they also did the job of announcing where I'm from.
In Missoula, Montana, I added a visibility triangle to my equipment. It's meant to be worn on the body, but I usually strapped it to my bike instead. I bought it at the ACA headquarters, can also be purchased online here.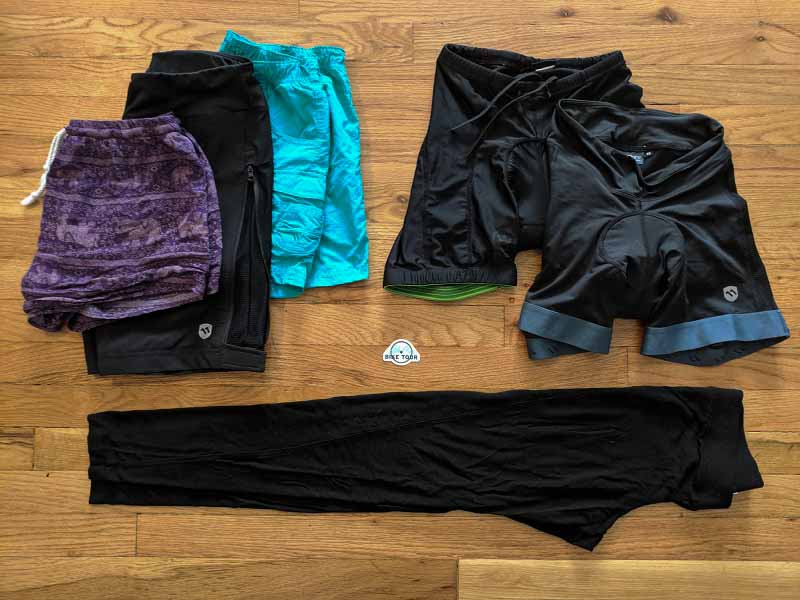 Shorts and pants
On the bottom, I'll see how my buns do with two chamois (padded) shorts, plus everyday shorts on top or as alternates. Leggings for pants.
ElevenPine shorts system

. Outer shorts with a padded lining by an awesome Boulder-based company designing for comfort and style on and off the bike.  

A pair of Canari chamois shorts I've had for years

A pair of quick-dry teal hiking shorts

Those elephant shorts seen on every tourist in Thailand. They're airy and practically weightless.

Lightweight leggings for sleeping and layering.

Alpine Fit Backcountry Base Layer Bottoms for colder nights — extra-cozy and lightweight!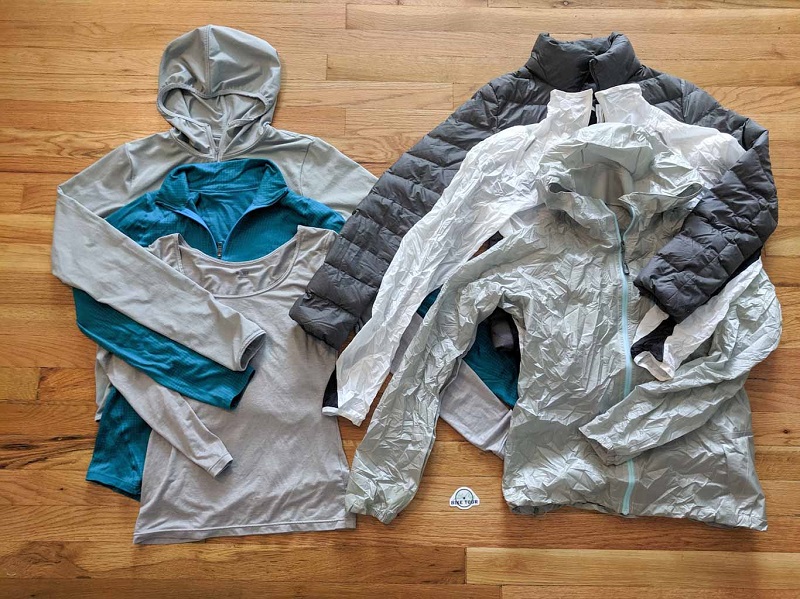 Outerwear and layering
I get cold. Like, need-a-jacket-in-air-conditioning cold. So I'd rather err on the side of over-packing on the warm layers then get stuck shivering for hours.
Ultra Light Down Jacket

from Uniqlo. Unpretentious puffy, packs down small.

Assos Shell

in white for wind, light rain and sun. Packs down to the size of an orange.

Outdoor Research Helium II

packable rain jacket in pearly gray, for when the weather gets wet and stormy.

AIRism longsleeve mesh hoodie from Uniqlo. Found it on clearance a while ago for $9, great for wind, sun, and extra warmth.

Long-sleeve wool-blend layer in teal by REI. This is my go-to mountain adventure layer, perfect for light insulation.

Heattech Base Layer

in gray from Uniqlo. For sleeping, lounging, all of it. I have three of these at home. 

Alpine Fit Rendezvous Ridge long sleeve base layer for extra warmth, on or off the bike.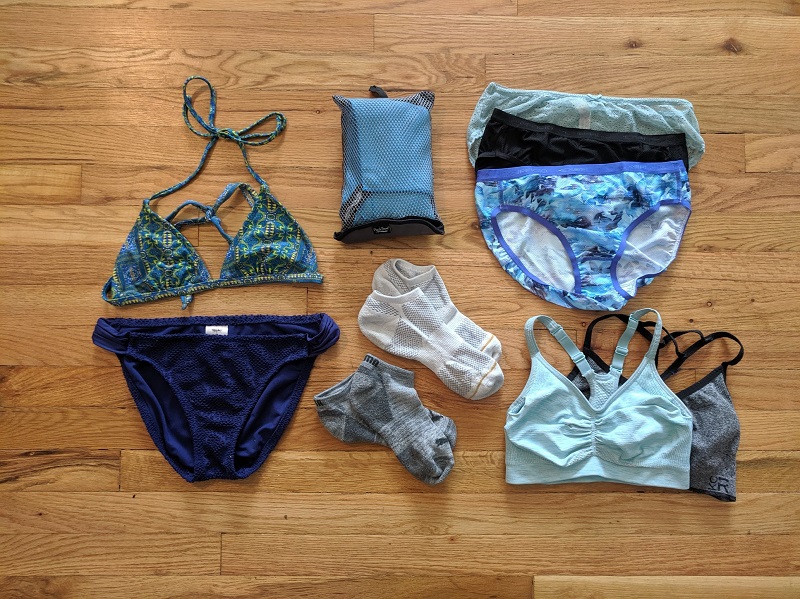 Innerwear and swimwear
Here's what's underneath, and also what I'll be wearing at the swimming holes and hot springs.
Two basic sports bras, padding removed for easier packing and laundering.

Two pair ankle socks, bought in bulk at TJ Maxx at some point.

ExOfficio Travel Underwear

, 2 pair. These are specially designed to be lightweight, hand-washable, and quick-dry. These may be waving behind me like prayer flags, hung out to dry as I ride. Supplemented with 2 pair underwear, also synthetic and quick-dry.

Mossimo 2-piece swimsuit I've had forever, padding removed.

PackTowl Original

in size L. My super-absorbent microfiber towel has been a mainstay on all kinds of travel adventures.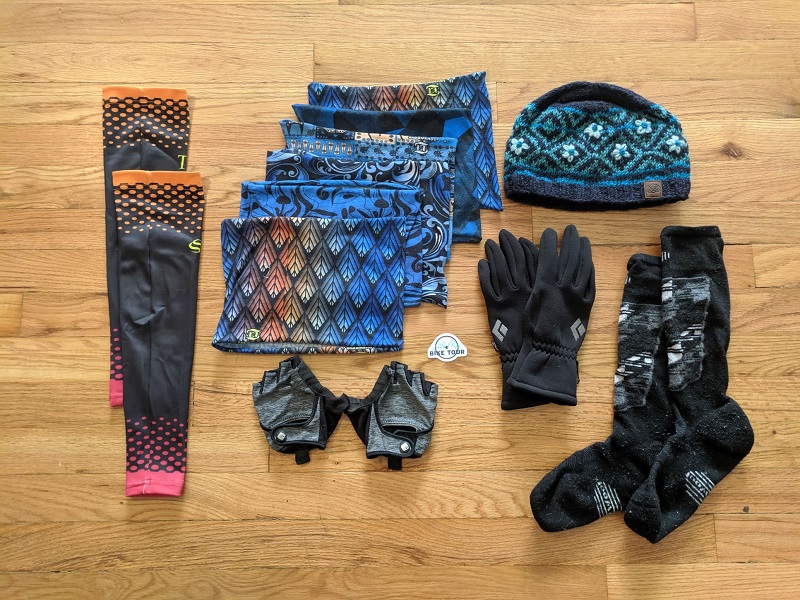 Accessories
These are the woolens that will keep me warm after the sun goes down, and the items I'll use for hair management and hand protection.
Sherpa Rani wool hat

lined with fleece, just thin enough to fit under the helmet

Black Diamond glove liners

, midweight with screentap fingertips

SmartWool long socks. I'd link to the exact pair online, but these are hand-me-downs of unknown variety.

At least six buffs

. I ordered these neck-warmer sleeves in bulk on Amazon and cut them in half to use as headbands, face warmth, rags, etc. I use these for everything.

Cycling gloves. The point of these fingerless gloves is padding to protect my hand nerves from the pressure of hovering over handlebars all day.

Arm sleeves. If I want extra warmth or coverage without putting on a full shirt, I can slip these tubes onto my arms. Got them on sale at the finish line of Tour of the Moon.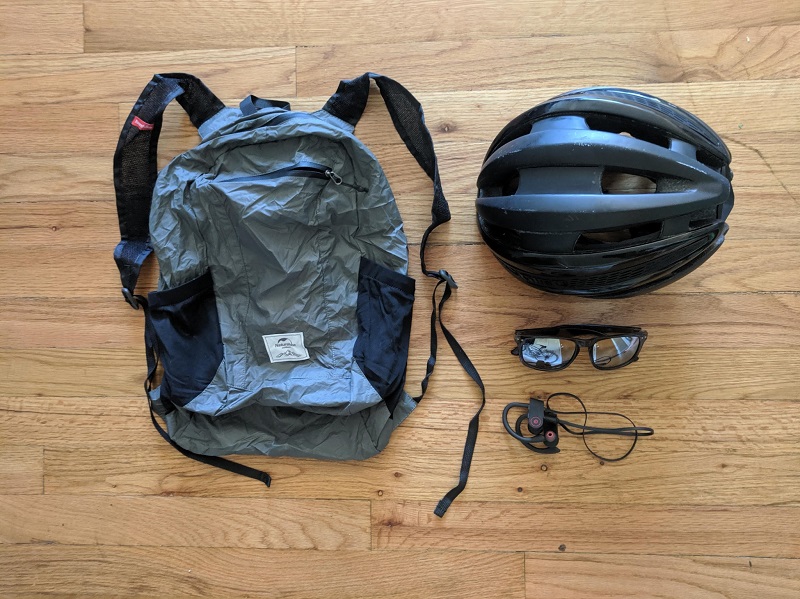 A few more accessories:
Packable backpack by Topnaca, packs down to the size of a fist and weighs in at only 120 grams. This will be like my all-purpose purse or daypack when I'm away from the bike.
Giro helmet that I've had for a couple years now. Always, always, always when riding. No exceptions, no debate here. I've got a brain to protect.
Sunglasses in the $12 range, as long as they're polarized. I'm sure I'll go through a few pairs of these.
Otium Bluetooth headphones, to keep the tunes, podcasts, and audiobooks flowing during the long hours on the bikes and rainy days in the tent.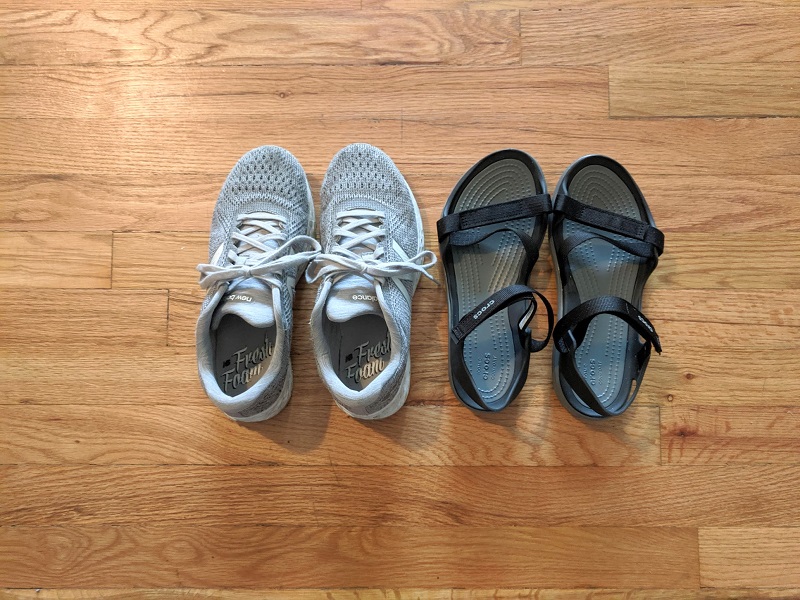 Footwear
I'll pared down the footwear to just one pair of shoes and one pair of sandals.
Crocs Swiftwater Sandal

. I chose these based on lightweight foam material and ability to wear socks underneath them at campsites.

New Balance basic running shoes. I'm going unclipped on this adventure, mostly for ease and comfort while not on the bike.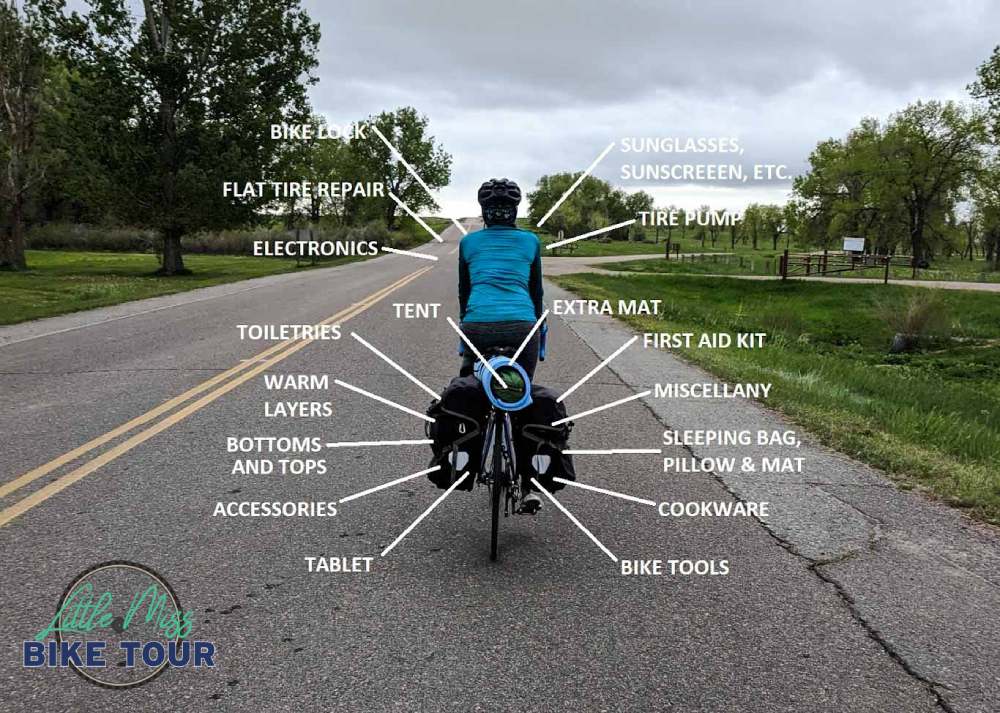 I've made a separate post detailing the camping gear, supplies, and tools I'll be carrying. Here's a quick summary of the categories:
Sleep system (tent, sleeping bag, pillow, and mat)
Cookware
Toiletries
Tech and electronics
Bike tools
First aid kit
Miscellany
Read the complete gear list here.
So that just about covers the clothing portion of my packing, at least to start out. It's bound to change as I shed unneeded items and get ahold of anything that's missing.
How am I doing so far? I'd love to hear from experienced bike travelers — especially women — about their most essential clothing items while on tour.

Disclosure: I included links wherever the item is still available to buy online because I genuinely want to help readers find the exact things I've listed. That said, I also want to break even on this website, so any Amazon links are affiliate (meaning I earn a small percent of any transaction).