Five Hot Springs to Treat Yourself to on the TransAmerica Bicycle Route
Idaho is a rugged ride. There are no "easy miles" on the TransAmerica bike route that crosses the northern part of the Gem State. When I wasn't climbing one of the three major passes on this segment of the route, I was doing battle with road work, headwinds, heat, no cellphone coverage, and huge vehicles that don't share the road.
I needed some relief.
Luckily, Idaho redeems itself with a trail of hot springs to hop. I'm a bit of a hot springs fanatic. I've been spoiled by Colorado's hot springs and other geothermal gems worldwide, so my standards are high. I took the time to scout out all the hot springs I could find so that you, my fellow hot springs freaks and bike nuts, can get the details. I've even given them star ratings. You're welcome.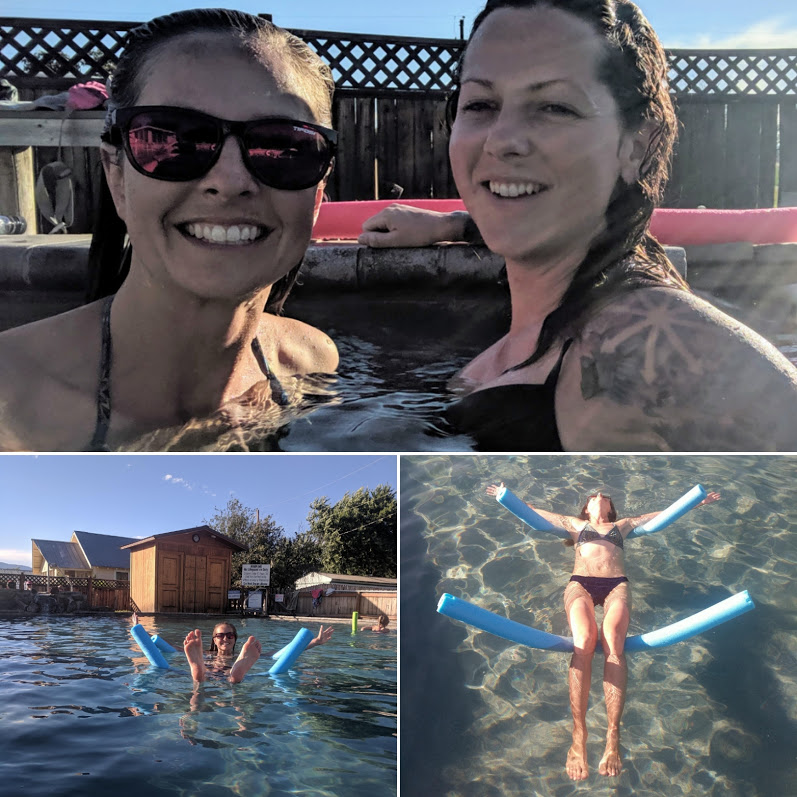 Mundo Hot Springs (near Cambridge, Idaho)
⭐⭐⭐⭐
If you're riding eastbound on the TransAm, then Mundo Hot Springs sets itself up nicely as a reward after climbing the first major pass. This is a developed hot springs and campground, charging $12 per person to camp and $5 to soak. I did both.
At the campground, I met badass bikepacker Rebecca Vader, and we started talking bike travel over a bottle of whiskey. When we made it over to the pool, it was the perfect temperature for soaking — right around 100 degrees F. Complete with pool noodles, this spot was great for deep relaxation. My only complaint is that it closes at 8pm. I could have stayed in there for another couple hours.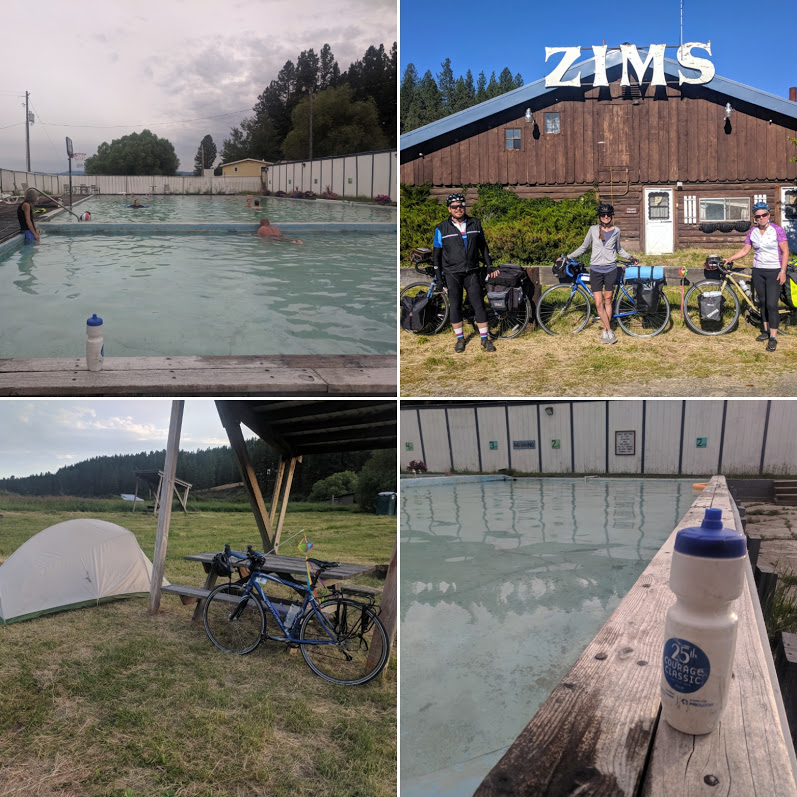 Zim's Hot Springs (near New Meadows, Idaho)
⭐⭐⭐
When you reach New Meadows, keep going north on Highway 95 for another four miles. Here you'll find another developed hot springs and campground called Zim's. Camping costs $10 and soaking costs $8. Again, I did both.
At this point, I had joined up with two other "eastbounders", Quinn and Steve, who also stayed and camped. I noticed that the place was a little more rustic than Mundo had been, and the pools weren't quite as photo-worthy. The two pools were a comfortable upper-80s and steamy near-100 in temperature, so I drifted between the two. The staffer was really nice and gave us some local cherries.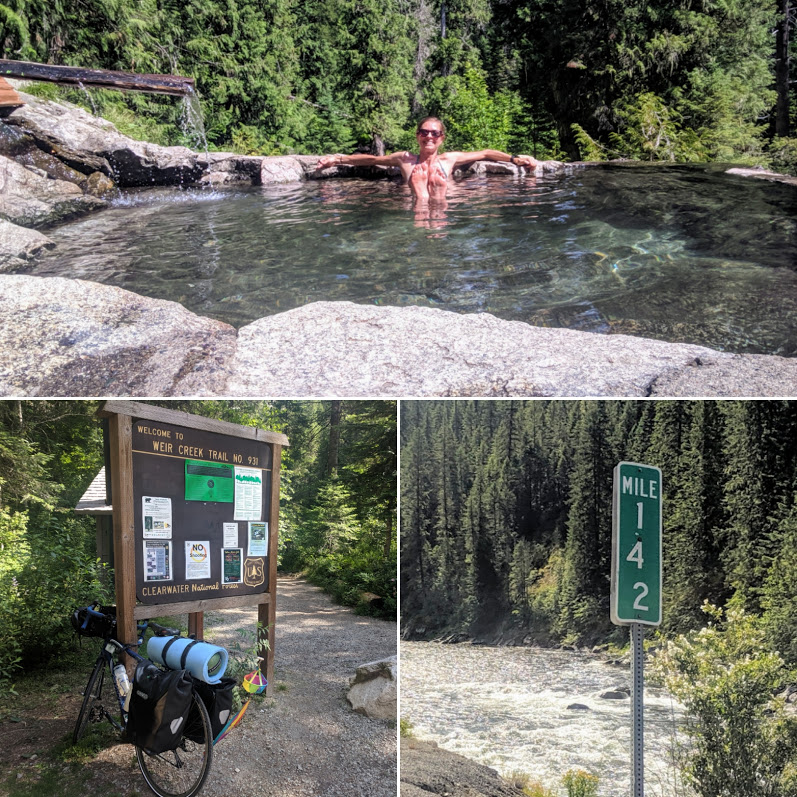 Weir Creek Hot Springs (near mile 142 on Highway 12)
⭐⭐⭐⭐⭐
This was my favorite of all the Idaho hot springs, perhaps because it's the most hidden and remote. Weir is a primitive hot spring, meaning it's not developed and it's free to access. The trick is finding it. A westbound TransAm cyclist had tipped me off on the trailhead location just after mile marker 142. Memorize that number, because there is no cellphone service all along the 60+ miles of Highway 12.
I had set up a dispersed campsite about 20 miles downriver the night before (near Wilderness Gateway campground). But if I were to do things again, I'd push on to mile 142 and camp by the trailhead, where you'll find a few dispersed sites with fire pits. Less than ten minutes' hike up the trail, you'll find these gorgeous pools along the Weir Creek — a tributary to the Lochsa River.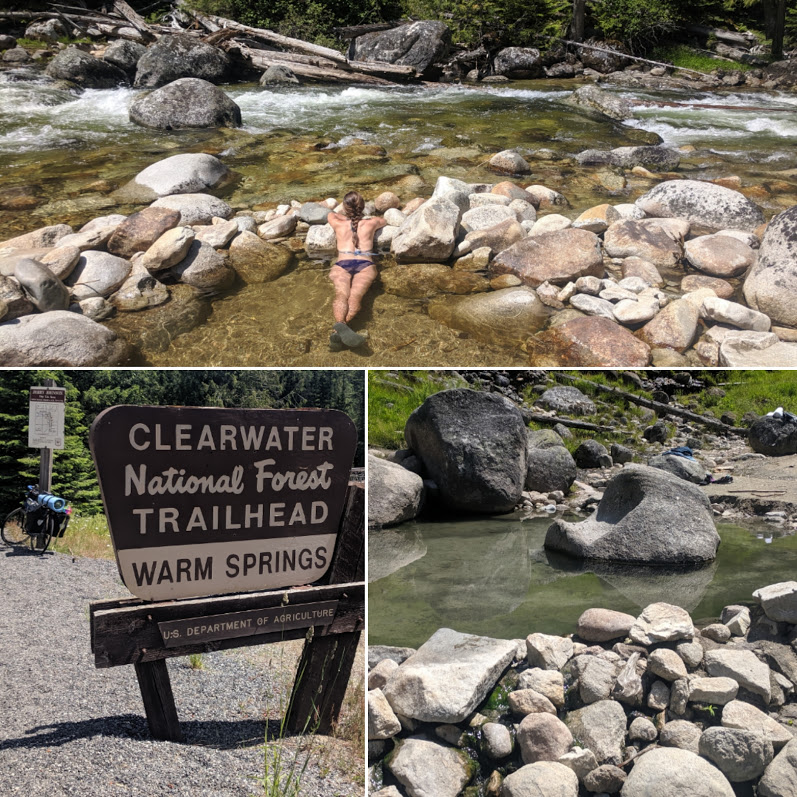 Jerry Johnson Hot Springs (near mile 142 on Highway 12)
⭐⭐⭐⭐
About ten miles further up the Lochsa River (mile 152), you'll see plenty of signage for the Jerry Johnson hot springs. The secret's out. These primitive springs are more well-known and more visited. Hiking the two miles along the stream to find them, I passed several groups of people, including families with kids.
Although it wasn't as secluded as Weir Creek had been, this is still a very rewarding "in the wild" hot springs experience. You're likely to see visitors "in the wild" as well — it's a clothing-optional kind of place.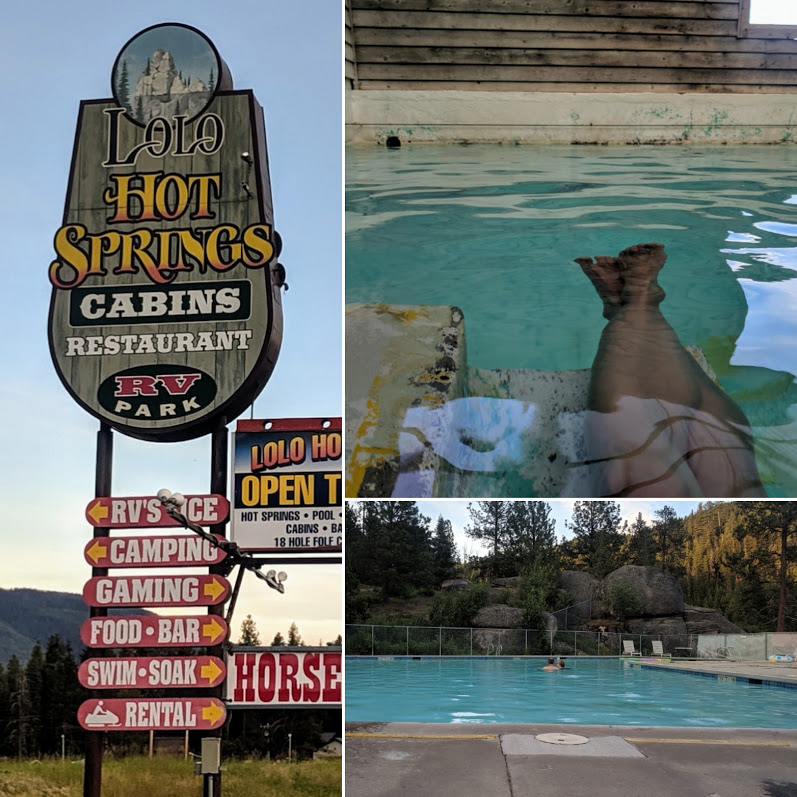 Lolo Hot Springs (between Lolo Pass and Lolo, Montana)
⭐⭐
After the final 4,000 feet of climbing to the top of Lolo Pass, I was looking forward to one more hot springs soak as a reward. Sadly, this one was my least favorite. I pulled into the campground, which cost $17 for a spot on the lawn and broken WiFi. The "tourist trap" vibe continued over on the other side of the road, where the pools were surrounded by an array other overpriced tourist services.
I don't even know how much the pools cost, as the attendant had left the front desk, so I just walked in. The main pool is a warm spring-fed version of an average swimming pool. There's also a hotter indoor pool in need of a paint job. Nevertheless, my legs appreciated the relief. If I were to do things again, however, I'd probably skip this one entirely.
My spin on it: try to find Meir Creek for a primitive hot springs experience, and stay at Mundo for a more "civilized" soak. Your calves and quads will thank you.