Meet the athlete that will pedal-power himself across land and sea to set a world record
What does a bike traveler like myself do once the summer of cycling the TransAmerica Route is over? I've been finding other bike travelers here in my hometown of Denver, CO and sharing stories. Luckily, this is the kind of city that attracts serious adventure athletes. Take Paul Spencer, for example.
In 2021, Paul plans to circumnavigate the globe by bicycle and pedal boat.
This first-of-its kind expedition will take anywhere from two to three years and break a Guinness World Record for muscle-powered globe circumnavigation.
I caught wind of Paul's plan on Instagram and reached out when I noticed he also lives in Denver. He agreed to an interview — as long as it doubled as a bicycle ride. As we pedaled from the downtown REI to Chatfield Reservoir and back, he answered my barrage of questions.
Can you give me a quick rundown of what you're planning for 2021?
Paul Spencer: The goal is to explore the world and visit as many countries as possible. I want to adjust the route for points of interest and to include others who want to join for a bit and ride with me. I also want to be training. All of the land segments are training for the water segments. So when I'm on the water in the pedal boat, it will be nonstop pedaling as many hours as possible. On land, I'll be recovering from the boat and increasing my fitness for the next part on the boat.
Tell me about your world record goal.
Paul Spencer: "Fastest human-powered circumnavigation of the globe" is the official record. The record right now is five years and eleven days, by Erden Eruç, in 2012. For ocean crossings, he mostly used a rowboat. My own spin on it is that I want to pedal the whole thing. Pedal bike and pedal boat.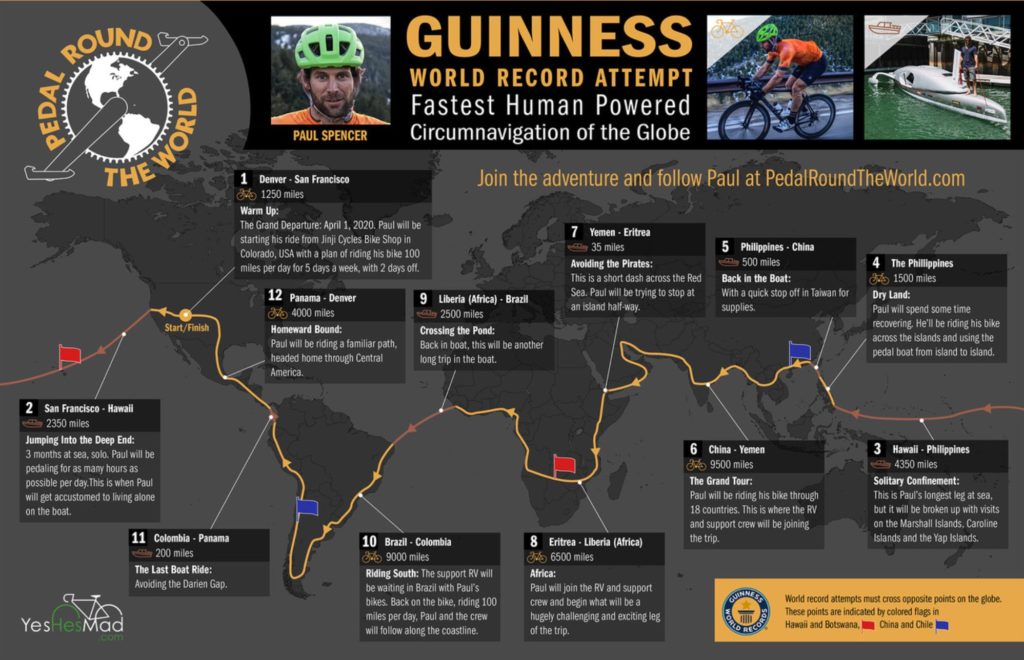 This isn't your first mad adventure. What's the biggest cycling trip you've done so far?
Paul Spencer: So far would be across Africa. 7,500 miles. The Tour d'Afrique bike race was intense. We raced day-in and day-out, which I never thought we would. I thought we would kinda race a little bit and then ride as a group, but literally every single day somebody would attack and we were riding as hard as we possibly could. The fitness level it achieved was incredible.
We were also getting our riding done quickly, like in three or four hours, so that gave us the rest of the day to explore the town we were spending the night in. It was a huge group — about 65 of us — so there were plenty of friends and people to hang out with. I really liked that aspect of it, making all those friends from all over the world and exploring.
Pedaling across an ocean is serious business. Tell me about your pedal boat.
Paul Spencer: Some people ask, "So you put a bike in a boat?" That's not it at all. It's a specially designed boat with a recumbent seat in it and a pedal system that will power two propellers.
In addition to the recumbent seat, you can also switch out a regular bicycle saddle, so there are two different pedal positions. On nice days I can pedal on the regular seat and be up and out of the boat. On rough days I can seal myself in the boat and be totally enclosed.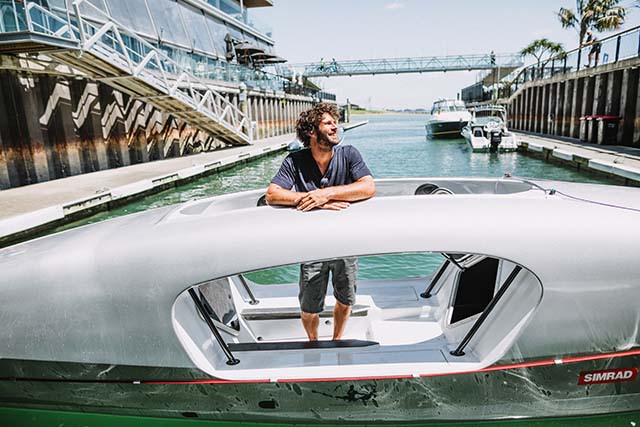 This boat will be the first of its kind from this company. My boat builder is the legendary Lomocean in New Zealand. They built the first solar-powered boat to go around the world, they've built speed boats that have won round-the-world races, military boats, lots of cools stuff. My pedal boat is the first design to really minimize losses and be efficient. Other pedal boats were about shoving bicycle components into a boat, which isn't really very efficient.
What kind of support will you have in place?
Paul Spencer: So, the support on the ocean will be very little. We're going to tell local sailing clubs that if they're anywhere nearby to stop by. I will have a weatherman monitoring me to tell me where to go, weather-wise, adjusting for storms and that kind of thing.
View this post on Instagram
On the land, it will be fully supported. I'll have a support RV with people to help with blogging, bike mechanics, driving, etc.
I've done world records on my own and I've done them with full support. On the ones on my own, I didn't share my story very well with people. The ones I had support with, we really shared the story and people got involved and followed. Also, I want to have friends with me. We'll have volunteer spots, so hopefully I can get all my friends to volunteer and spend some time traveling.
How are you training for this record-breaking feat of athleticism?
Paul Spencer: Just keeping fit, nothing special. I'll be taking the boat to New Zealand and pedaling around the North Island in the spring, so that will be a really good couple of months training, getting me used to the boat and in good shape. So I'm just doing trips here and there. I'm actually going to Costa Rica in January, riding from Costa Rica to Nicaragua in one week.
View this post on Instagram
What do you do with yourself, aside from pedaling?
Paul Spencer: All sorts of things. Skiing. I work ski races, I love stand-up paddleboarding on the river. I run, I did the Leadville 100 this year. If I'm by the ocean, kite surfing. Golf's my recovery sport. Skydiving. I don't do much as far as team sports. I used to play rugby, but stopped when I kept getting hurt.
Give us a few quick numbers. How long do you estimate this will take?
Paul Spencer: The goal is three years. But we don't really know how fast the boat is. If the boat is as quick as we think, it could come down to about two and a half.
And how many miles does your route cover?
Paul Spencer: 50,000+ miles on land, and 10,000+ miles at sea.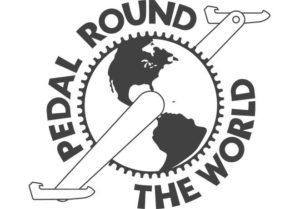 How will we be able to follow your adventure?
Paul Spencer: Instagram on @pedalroundtheworld, and also on my website, pedalroundtheworld.com. On the trip, I'll probably be running the Instagram, then someone else will be doing Facebook and somebody else will be doing Twitter, so we have a few different points of view and sides of the story.