Facts and FAQ about my route
I hatched the idea to ride my bicycle across the country in September 2018, then completed the route in the summer of 2019. I chose the most famous cross-America bicycle route and started planning. Here are some facts about the route, as well as the answers to the most common questions people have about my adventure.
TransAmerica Bicycle Trail by the numbers
Distance

: 4,223 miles (6,796 kilometers) on paved roads and country highways

Total climb:

219,855 feet (67,012 meters)

States crossed:

10 (Oregon, Idaho, Montana, Wyoming, Colorado, Kansas, Missouri, Illinois, Kentucky, and Virginia)

Major cities en route

: None. The idea behind this route is to avoid heavily trafficked urban areas and go deep into rural America. Eugene, OR is the largest city along the route. Other sizable cities are Missoula, MT; Pueblo, CO; and Carbondale, IL

National parks en route:

Three. Yellowstone National Park, Grand Tetons National Park, and Mammoth Cave National Park

Time taken to complete:

75 days (at a standard pace of 65 miles per day)
SEE RIDE STATS
How I picked the TransAmerica Bicycle Trail
Since I knew I'd be doing this alone, I wanted something classic and well-traveled for a solo first-timer like me.
I'd heard good things about bike touring along the California coastline, but some initial research implied a crowded coastal highway and expensive campsites.
That research led me to the Adventure Cycling Association (ACA), an organization that maps a vast network of bicycle routes. I set my sights on their original route — The TransAmerica Trail.
A little history of the TransAmerica Bicycle Trail
According to the ACA, the TransAmerica Trail was first routed by the organization's founder in 1973 on a grand personal trip around the Americas. With the Bicentennial coming up, an idea was born: gather thousands of people to cross America by bicycle. Organizers finalized the route maps, and in the summer of 1076, over 4,000 riders made the trip they called Bikecentennial.
The same organizers evolved into what is now the Adventure Cycling Association. They advocate for safe bicycle travel throughout the USA and maintain paper and digital maps of their network of routes. The TransAmerica Trail, called TransAm for short, stands as one of the most popular routes, with hundreds of riders from all over the world riding both eastbound and westbound each summer.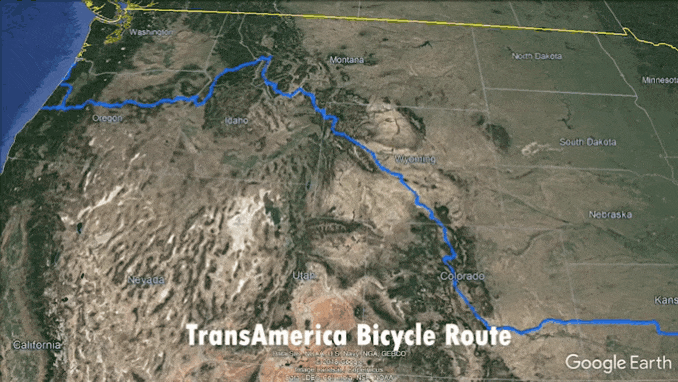 Highlights to look forward to
The Oregon Coast

Missoula, MT (and possible side trip to Glacier National Park)

Yellowstone and Grand Tetons National Parks

All of Colorado

The Appalachian Mountains along Blue Ridge Parkway

Mammoth Cave National Park
How long this took
Start date:

Sunday, June 16, 2019

End date:

Sunday, September 01, 2019 
The average time for riders to make this trip is about 90 days. I allowed myself 107 days, not knowing how my pace would be. I wanted to make all the scenic detours and have some leisurely zero-mile days. It's rural America. No need to rush. In the end, my pace and speed was higher than expected, and I completed the route in 75 days.
SEE RIDE STATS
Where it starts and ends
Starting point: Astoria, OR.

I took a road trip from Denver, CO to Astoria, OR with my sister, nephew, and bicycle in early June.

Ending point: Yorktown, VA.

I returned to Denver by Amtrak train via Washington, D.C. and Chicago. I boxed my bike in Williamsburg, VA to be able to transport it as checked baggage on the train.
Where I stayed each night
Bike touring is beautiful in its simplicity and spontaneity. You pack your bike with light camping gear and other basics, you choose a general route and vague timeline, and that's about all the planning you can do in advance.
I actually had no idea where I'll rest my head each night. I played it by ear. There's a lovely piece in National Geographic about the wide variety of accommodations on a bike tour, both free and paid. Here are the top options:
Camping at formal campsites

Camping at dispersed sites on public lands (free)

Camping at amenable city parks and churches (free)

Occasional hotels, hostels, and Airbnbs

Hospitality from Warmshowers hosts (free)
What I ate each day
Like the lodging situation, details worked themselves out along the way. I only had a vague idea of how I'd be replacing the 5,000+ calories I'd be burning each day on my bike. My diet became an opportunistic mix of diners, convenience stores, local fast food joints, ice cream, grocery store stops, trail snacks, and lots of pie.
The cost of dining out can add up quickly, so my goal was a ratio of at least two self-cooked meals for every restaurant meal. Thing is, I'm no expert at camp cooking. I don't get very creative about what can be concocted over a tiny backpacking burner with limited fuel, ingredients, and cookware. By the second half of the ride, I was hardly using my camp stove at all, relying almost entirely on readymade food from grocery stores, convenience stores and restaurants. 
How I paid for it
The unspoken question about this adventure is how I'm paying for it. No, I'm not being subsidized by any family fortune, legal settlement, or Kickstarter campaign. Yes, I quit my full-time job to do this for at least four months. I'm also quitting all the gigs and side hustles I accumulated over the past year.
It really came down to a lot of extra work, hardcore savings (over 30% last year!), and the frugality that seems to be baked into my genes. I rented out my house to break even on my fixed costs in Denver. I have a firm weekly travel budget. But I don't have it all figured out, otherwise this would be a personal finance blog instead of a travel blog. Employment status now that I've returned home: uncertain.